Rittners School Of Floral Design
In Boston Presents....
Wired Water Design #15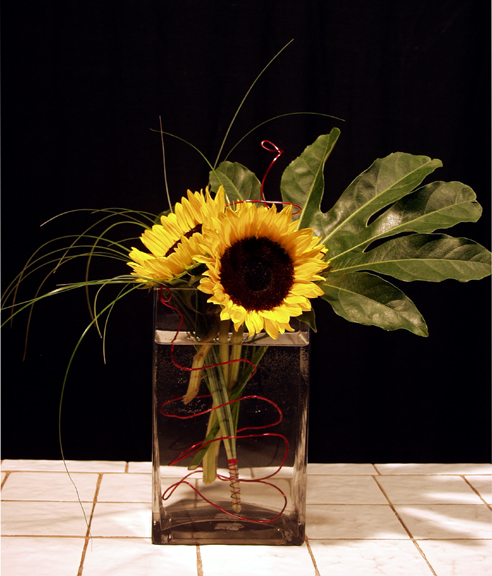 Here is another idea for a 21st Century approach to designing with flowers in water media.
Two sunflowers along with a little bear grass and a large leaf are all that is contained in this arrangement, but wow with great impact!
The photograph does not really convey the aspect of scale. The design is big. It is dramatic, and it is showy. But this kind of arrangement is also fairly easy to make!
Start by creating the wire infrastructure (shown in detail below).
Then take all floral elements. Assemble them in your hand, and then drop into the glass containing the wired armature. Bear grass is tied with 28 wire and then dropped into the design as well. A little more decorative wire is placed into the top of the design between the two sunflowers.

---
---
Here's a close up of the bottom of the design with the wired infrastructure. Notice how the 12 gauge heavier wire is hooked over the edge of the container at the top. It is weaved to the right and left gradually bringing our eyes from the top of the base down to the bottom. Also note the use of 28 gauge lighter wire at the bottom of the container around the bear grass stems.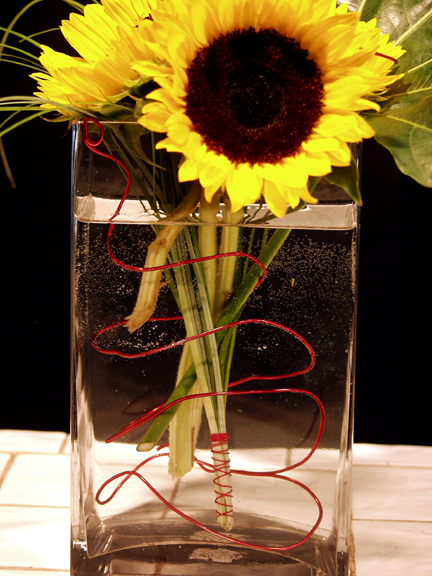 ---
---
Check Out The Following Wired Water Designs....
Down below are many other examples of designs in water using decorative wire....