Rittners School Of Floral Design
In Boston Presents....
Wired Water Design #2
This is a second example of a wired water design. A little more complex than the last one. The flower supported by wire in this case is Nigella. Nigella is a rather odd looking specimen. It is available in both live and dried forms, and looks pretty much the same whether it is fresh or dried. Obviously we are using the live variety in a design in water.
Nigella does, however, give a rather "extraterrestrial" kind of feeling, and so it is especially appropriate in a design with a 21st Century motif. As with Wired Water Design #1 the wires used are 12 guage aluminum wire. Notice, however, that in this case, we are using two different colors. Both red and green wire is used. A rather tight coil of green wire is placed around the center Nigella. A more relaxed curving piece of red starts at the base of the flowers and gradually makes its way around the neck of the flower to the left, and then is coiled very tightly in several spots around the stem of the flower on the right hand side.
This kind of manipulation does look complex, but is really not all that hard to accomplish. Play with the wire, and you will be amazed at the patterns you can produce.
---
---
---
---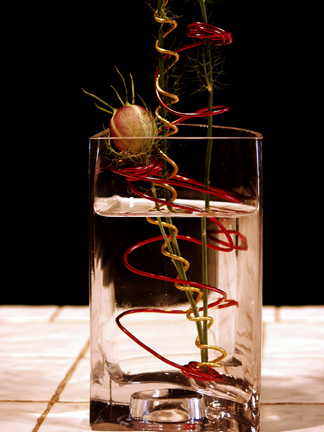 Here is a close up of the interior of this design.
---
---
---
---
Check Out The Following Wired Water Designs....
Down below are many other examples of designs in water using decorative wire....