Rittners School Of Floral Design
In Boston Presents....
Wired Water Design #16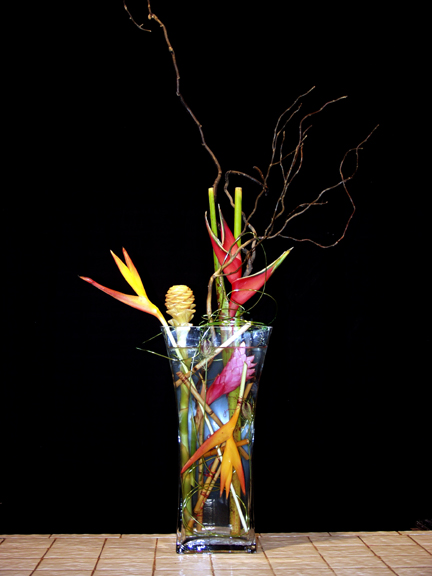 Here is another idea for a 21st Century approach to designing with flowers in water media.
Isn't this a strange looking thing?
The photograph does not really convey the aspect of scale. The design is big. It is dramatic, and it is showy. But this kind of arrangement is also fairly easy to make!
As with some of the other designs using wire and water, we start by creating the infrastructure (shown in detail below).
However, our infrastructure here is more than simply wire alone.
The key to this design lies in creating a matrix of bamboo that will be submerged inside of the container!
Traditional designers think of placing flowers in a glass vase, with the stems in water, and the flowers outside of the vase itself. Newer thinking asks "Why must it be done that way? Can't we think of the entirety of our base as a place for texture, color and display--even within the base?"
Why not place some of our flowers actually under water in the container itself!!
But in order to achieve this we need an armature within the base to hold all of the component parts in place.....hence the bamboo.....
---
---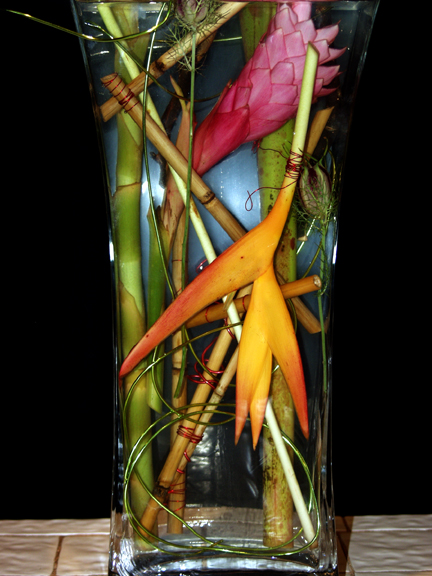 Here's a close up of the bottom of the design with the wired infrastructure. Notice how sections of bamboo or rivercane have been crisscrossed and tied with several guages of red decorative wire. This is the first step in creating a design like this.
Next additional wire is woven from the bottom of the container, all the way to the top. (green wire)
The next step in creating this design is to carefully insert some flowers into the base, deliberately below where the water line will be. Please note several nigella, a ginger and heliconia. We've even placed the heliconia upside down and added some 28 guage decorative wire to it for added interest.
At this point we add water to the arrangement.
---
---
A few various tropical flowers are now carefully placed through this matrix to emerge on the top of the design.
A long piece of curly willow is inserted into the arrangement to extend our view at least two to three feet beyond the rim of the vase, thus making the design even larger. The curly willow also adds a dynamic diagonal flow in several directions to the arrangement.
---
---
Is this arrangement for everyone? I think not. If your tastes tend towards the classical, then this is not for you.
It is definitely for someone with very eclectic or unusual tastes, or for someone who really enjoys modern art.
This is a design that would work great in an entry area of a very contemporary home. It may also work well in a reception area in a very, very contemporary design firm, office or company. In other words, in places where unusual architecture, would demand novel floral art approaches.
I find it a rather interesting design to study, contemplate and enjoy, for it provides a range of textures, colors and shapes with an interesting internal matrix.
---
---
---
Check Out The Following Wired Water Designs....
Down below are many other examples of designs in water using decorative wire....