Choosing A
Floral Design School
A Guide For The Consumer
At Rittners Floral School, we occasionally get requests from folks, asking for information about floral design programs or courses in other parts of the country.
Naturally, we think that you should come to Boston to take one of our courses, as we feel that they are some of the finest around. Besides which we enjoy having people atttend our school from all parts of the globe.
Nonetheless, for your convenience, we have assembled a list of guidelines that you may find helpful when evaluating ANY course on professional floral designing.
Some folks try to compare floral design programs on price alone. Price is important. If you are going to take a course, you should know how much it costs....But comparing on price alone can really be deceptive. The key factor is quality. How much are you really getting for your price. An old saying is that "you get what you pay for!" What may seem inexpensive at first may actually end up costing you far more in the long run!
There are many other things besides price that you should take into account to assure that you are not practicing false economy.
---
---
---
Is It A Licensed Floral Design School?

Most states have laws requiring that legitimate schools be licensed.
Licensing means that there are very specific rules and regulations in place to protect the consumer.
These rules cover most aspects of a private school's operations. They assure that staff are capable and that the physical plant of the school meets public safety requirements. They are your assurance that you aren't dealing with someone who has just arbitrarily decided that s/he will run a school without proper supervision and safeguards. (And yes, there are some of those kinds of "schools" out there!)
We are proud that Rittners Floral School is licensed by The Commonwealth of Massachusetts Department of Elementary and Secondary Education. In fact, we believe that we are probably the longest licensed private floral design school in the Northeast, and one of the longest running programs of our kind in North America.
---
---
---
Is It A Professional Floral Design Course?

There is a difference between hobby courses and professional courses.
A hobby course is one that folks take simply to play with flowers. They are fun, but leave out certain designs and techniques that are necessary for one to really be able to function professionally in the field. Sometimes these courses call themselves "flower arranging" rather than floral designing. These programs can be pleasant. The only problem is that sometimes folks will try to take a number of them, figuring that if they take enough, they will be able to work in or run a flower shop. Without professional techniques and very specific commercial designs, that is very hard, if not impossible.
A professional floral design course can be taken for professional vocational purposes, because it is geared to that use. On the other hand, it can also be taken for cultural purposes, stress reduction or simply to have a great time.
At Rittners Floral School we find that we have quite an assortment of folks coming to school. People wanting to learn floral art so that they can use it vocationally are in our programs. But we also find that hobbyists enjoy learning the techniques that professionals use to make floral art quick, efficient and easy!
As far as we are concerned our courses are professionally oriented, but are intended to be fun! People are welcome for both purposes.
---
---
---
If I Learn Floral Art In A Flower Shop
Won't I Learn More?
Not necessarily.
Before there were private floral design schools the primary way to learn floral art was by working as an apprentice in a flower shop.
It was a long and arduous process. Florists loved it because they could get free or nearly free labor...for a long period of time.
Folks trying to learn floral design this way found that it could take many years to really learn floral art. Along the way they picked up important skills as cleaning floors, washing windows, filling buckets of water and doing prep work for designs (smile)....and then, maybe eventually, they would learn some floral designing.
There are some people who still try to learn floral designing that way. Our sympathy to them. They may save a few dollars, but is it worth it?
The whole concept of attending a floral school is to eliminate the unpleasantness all too often associated with apprenticeship approaches, to speed up the learning process, and make the process of learning floral designing far more efficient and enjoyable.
---
---
---
How Long Has The School Been Around?

The longer the better.
Like any business, a school can't exist on one time sales. If a school has been around for a long period of time, that means that it has been doing its job properly. If a school has been around for a longer period of time, it is a good indicator of stability and satisfied customers.
It is also a good idea to see if the school has been under the same ownership for the entire length of its existence. If the owners have been there for a long period of time, again, it's a more established situation.
And you may want to ask if the owner is actually teaching.....or is s/he just an "administrator?" If the owner is teaching, how long has s/he actually been teaching floral designing?
At Rittners we are pleased that we are celebrating over sixty years as a school, and the Rittner family is still actively involved not only in administration, but also in the everyday teaching.
---
---
---
Does The Course Start Simply
But Also Include Advanced Floral Art?

This is also important. What exactly is the scope of the course?
Some schools divide their curriculum into a number of courses, starting with beginning designing, (It seems relatively inexpensive-----at least at first!) and then gradually present more and more complicated courses. To become a capable as a floral designer requires taking additional courses beyond the first one.
In our opinion, that can get rather expensive after awhile and also can get to be rather discouraging. It can be hard to build confidence in your skills and abilities when you feel that you have to keep taking more and more courses..
To have to take more and more courses to attain professional skills is great for the school, but not all that user friendly for the student..After all, when have I learned enough???
At Rittners we feel that an ideal course
should start simply, but should also include advanced floral art within the same diploma program.
Courses labeled as a "Beginner Professional" or Starter Professional" will give you just that....You will very likely have to seek additional advanced training.
We believe that when you go to a floral school you should have the confidence that the program is set up to give you a thorough practical training.
At Rittners our Sept Day, 12.5 Week Evening, & Concentrated Courses(Days) start simply, assuming no prior background, but also include intermediate and advanced floral art skills as well. These courses include vase arrangements, wedding designs, sympathy flowers, flowers to wear, and novelties. They include both traditional as well as contemporary approaches--because both are done in leading flower shops.
---
---
---
Do You Get Adequate Hands-On Lab Training?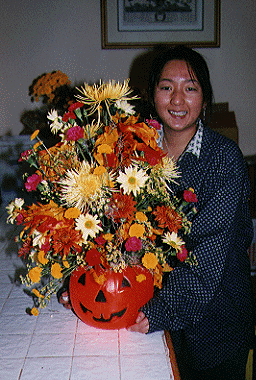 To really learn floral designing you have to do it. A reputable floral design program should give you hands-on training using flowers and supplies.....LOTS OF THEM!!!
Is the cost of flowers, supplies and materials included in the total of the course or is it an extra charge?
This doesn't mean that every design that you will be taught will be big or contain overwhelming amounts of flowers. Some designs are bigger and some smaller. Some flowers fancier, and some more common, but in our opinion, your course should provide you with flowers to use at each session.
Be careful about any course or program that requires you to bring your own flowers, or that is vague about flower costs, or requires you to buy them separately at the time of class. The overall cost of that program will end up being significantly higher than you may have planned.
Make sure that you have new materials provided for every project....In other words, Your time is valuable. You should be making floral designs, not wasting time by taking apart floral projects that you have already made, to recycle the flowers over and over again.
At Rittners, we are proud that we provide all of the flowers, containers, supplies and materials that students use. Our students get unused fresh flowers for every project.

---
---
---
Do You Get To Take Home Every Single Design That You Make?

Can you take home every floral design that you make or are the contents recycled over and over again for your continued use?
Are the completed designs yours, or are your completed projects sold by the "school" for profit?
Make sure that you ask about that. Some places are vague. You may be told that you can take home completed designs. Does that mean every design that you make, or does it mean that you will make more than one design from the same materials, and then get "something" to take home at the end of a lesson?
In our opinion a student should be entitled to take home every single project that s/he completes.
We don't feel that it's right for a school to recycle the contents or sell any floral art that its students do.

At Rittners, every single design that you make, you may take home with you.!!
---
---
---
Do Any Of The Instructors Have Teaching Credentials?

Most State licensing boards have requirements that instructors in floral schools have sufficient floral design background in order to be allowed to teach the subject....So in general that is rarely an issue.
On the other hand being a great artist doesn't mean that you are capable of great teaching.
Being a good floral designer does not assure good teaching skills.
There are many terrific floral designers who are wonderful at running around the country promoting themselves, but don't have the patience for newcomers. Great artistry does not mean that the person is automatically very good at communicating his/her craft, or breaking it down for teaching purposes.
A staff with decent teaching skills is critical to your learning the subject.
The presentations must be clear or easy to follow so that you will be able to understand what you are doing, & why you are doing it.
It really can make a difference in how enjoyable your course will be, and how much you will get out of it. Does the staff include anyone with a real degree in teaching? Are additional staff supervised by people who are trained teachers? These are some of the things you should be asking.
Most students don't really care as much about that fabulous design the instructor did last month.....or where she or he did it.......They can and should rightfully care about how organized and patient that instructor is when teaching floral designing skills to them.......
The best teaching program is student centered not a showcase for a teacher's ego. It's not only how good the instructor is....It's how well s/he can teach floral designing skills to you!
At Rittners we are proud at the fact that our courses are set up and run by a staff that includes a doctorate in teaching. At Rittners Floral School teaching is not ego enhancement. We love to teach......We know how to present training programs that are fun and enjoyable.
---
---
---
What Is The Educational Philosophy
Of The Owners Of The School
There seems to be a strange idea in much of education that in order to learn you really have to suffer!!! We have actually heard of programs that boast about how hard you are going to work, or how you'll really be exhausted when you complete the training--or even require a physical to assure that you have the appropriate stamina (How wonderful--laughing!)
In our opinion, that is not good teaching technique and it certainly isn't all that much fun!
The owners of any school should have a very positive approach to teaching and making it fun!! or perhaps they should consider another line of work!
We don't believe in suffering here at Rittners (grin). Our philosophy at Rittners Floral School is that if you are given a pleasant and enjoyable environment, you will learn and also have a great time! You may have to put in an effort to learn certain techniques, but the whole process should be pleasant and fair.
We believe that one of the nicest compliments offered to us by many of our students at Rittners Floral School is "Gee, it's school.....but it doesn't feel like school!!"
---
---
Is Adequate Time Given For Students
To Be Able To Learn And Absorb Material?

Have you ever gone on one of those trips that take you to five countries in four days. After a while you wondered where exactly you were!!!
If a course is set up in such a way as to be educationally sound, it has to be paced properly. People can absorb only so much in any period of time. Be careful of courses with exaggerated claims. Presenting material quickly does not mean that a student can internalize it or absorb it.
When you are learning floral designing, you are learning both cognitive information, and also performing a motor task (working with your hands). If you are pressured, or feel stressed due to information overload, it will be twice as hard to make your designs, and the amount of the information you'll actually retain later will be doubtful.
In order for you to benefit optimally from any course in floral art, it must be carefully structured.
At Rittners Floral School, our curriculum has been designed by professional teachers. We are very fussy about the way we pace our courses. At Rittners we want you to learn and absorb and still have fun!!
---
---
---
Is The School
In A Nice Area?
You want to pick a school in a location that is centrally located. The advantage is that there will be varying ways to get to the school (eg. public transportation, etc.) Are there parking facilities close by? If it is in a centrally located area, you also get the benefit of all the nice amenities (eg. variety of restauants, etc.) that can make your attending the school even more pleasant. And above all, it should be a nice area, where you feel comfortable.
There is a big difference between going to school in a lovely area where people love to live and going to school in an industrial strip or zone. (ugh!)
At Rittners we are very fortunate in that we are located in one of the snobbiest parts of Boston!!
Our school location is in one of the nicest residential neighborhoods of Boston. Our location consists of brick sidewalks, gas street lights & some of the best preserved examples of 19th century architecture in America. External changes can't be made to properties in our area without the permission of an architectural board.
We are close to public transportation, and there is parking both on the street & in nearby garages. We also enjoy hundreds of shops, restaurants and two very upscale malls...all within a short distance of the school!!
---
---
---
Does The School
Have Adequate Educational Facilities?
A few work benches alone doesn't cut it in the 21st Century. Nor does a pretty display of flowers alone create an adequate learning environment.
Is it an actual full time school, with a permanent location, or is it something run part-time in temporary or borrowed quarters or in a location with some other primary function--(eg. somewhere designed to sell floral products retail or wholesale )
In our opinion that tells you a lot about the school and the attitude of the folks running it.
When you examine a floral design school, you should look for a strong floral design library to support the teaching mission of the school, adequate audiovisual support and presentation aids, etc....In other words the kinds of things you would automatically expect in any school. If these things are present, they are an indicator of greater professionalism and owner support.
In our opinion, the owners of a school should be willing to invest money in their school.
This means that they should spend generously on library facilties, media support systems and all of the various things that are needed to assure the kind of support systems that you deserve.
You would look for these kinds of things if selecting an educational program for your kids. You should certainly expect them when taking a floral art course.
At Rittners Floral School, we are quite proud of our facilities
Our library to which we are constantly adding, boasts over 4000 volumes. Our use of media, includes slides, video and digital systems. We are constantly making improvements in our support systems.
---
---
---
What About Support Systems
When The Student Finishes The Program?
The support systems that a school provides its graduates are often just as important as the program itself. In our opinion, the degree to which a school provides backup tells alot about how much the school really cares about its graduates.
The question should be....."Are you providing us with a quick course and wishing us a nice life, or do you have support systems in place to help your graduates?"
Is there placement assistance available?--and we mean active placement assistance, not simply maintaining "lists" of possible job leads?
Is there access to library faciities for graduates near the school?
Is there telephone support? and more?
You may never need these services, but wouldn't you rather go to the kind of school that thinks enough of its students to provide them?
At Rittners Floral School, we are dedicated to providing a wide range of support systems to our graduates. We are proud of our new graduate portal area of our web site set up to provide a range of free continuing education options for our Rittner Graduates.
---
---
---
How Accessible is the Owner of The School?
Is S/He Actively Involved In Teaching The Classes?
The owner of the school should be actively involved in the everyday teaching operations of the school. And we mean the real owner of a school....An 'assistant head' or 'director of student learning' is not always the actual director of the program.
S/he should be readily available to answer your questions before you arrive at the school, and should be easy to talk to while you are in a program. S/he should be one of your everyday teachers, not just a figurehead, or administrator.
S/he should also be accessible after you take the course as well.....
Owner involvement is an important aspect of quality control and asssuring that you are getting the quality teaching that you deserve.
In our opinion, if the school director has little teaching contact on a day-by-day basis with his/her students, that is a strong reason for concern.
At Rittners School of Floral Design, Dr. Steve Rittner, Director, is delighted to chat with prospective students. You may reach him at 617-267-3824. In addition, he is actively involved in teaching every program offered at our school, and readily available to graduates as well.
---
---
---
Ask If You Can Visit The School?

Any school should encourage visitors. It is a great opportunity for you to evaluate the program, and for the teachers to evaluate you too.
It is a good idea to call in advance and set up an appointment. Remember, different schools have different schedules.
Always try to set up your appointment so that you can view an actual class being taught.
In any school, just randomly wandering in without an appointment can be disruptive to classes currently running. Coming in to visit a school in between classes or at odd hours really defeats the purpose of your visit. After all, the major reason you are visiting is to see the actual teaching and a class in session....
You also want to expect that when you are a student at that same school, your learning experience isn't going to be constantly disrupted by constant random 'drop in visitors.'
So, by all means, ask if you can visit if you would like, but use common courtesy. Call first and set up an appointment. In that way your visit will be of real value to you, and will still respect the learning environment you are seeking to attend.
---
---
---
Well, we hope that this discussion of choosing a floral design school really gets you thinking, and helps you in your decision making process. And of course, please give serious thought to attending Rittners School of Floral Design in Boston.


---
---
---
Rittners Home Page returns you to our home page.
Floral Designing As A Career. discusses floristry careers.
The Rittner Floral School Approach.--our approach to teaching floral art.


Find out about our various courses such as our:
And Some other good stuff such as:
Our Gallery--Seasonal Delights!! This page features "how to's" on flower arranging, and all kinds of allied information. Check this from time to time as it will be constantly changed for your viewing enjoyment!!!
---
---
Your Webmaster is Dr. Steve Rittner, who may be reached at Stevrt@tiac.net. All photographs on this page are Copyright - Rittners School, and may not be reproduced, or used for any commercial purposes.