Concentrated Day Course In Floral Designing
Reduce Stress, Have Some Well Deserved Fun AND Learn Money Making Skills---In this Great Hands-On Workshop Course from Rittners Floral School
72 Hours



In Fall---October Fun time
In Spring---April
In Summer---Summer Fun Version--June
In Summer---Summer Fun Version--July/Aug
Run During The Day




Diploma In Floral Design
Our Short Course is a program specially designed for the busy person who wants a detailed course in floral design offered in a short period of time during daytime hours. It's for the person who wants to learn as much as possible as quickly as possible.
This is one of our most popular courses.......It is a diploma program, and attracts students from all over the United States as well as from overseas!! This is one terrific program!!
Whether you want to learn floral art skills for professional use, or you simply want to be capable of doing floral designs that are as good as those made by professionals, this program will meet your needs.


IT ROCKS!!!
The Short Course concentrates on Floral Designing. It starts quite simply, assuming no prior background, but also includes advanced floral design technique that is needed by people who want to work in flower shops, or open their own businesses....all in one course.
Thus our Concentrated Course provides
elementary, intermediate & advanced floral designing in a one course format that is definitely designed to accommodate people with busy schedules.
That is pretty amazing... A Floral Art Course that starts simply but also INCLUDES intermediate and advanced skills, rather than making you come back over and over again for more and more design courses.
WHO IS THIS COURSE FOR?
It is ideal for individuals who want to concentrate primarily upon floral designing, get very strong floral art skills, in an efficient & enjoyable format.
The Concentrated Course in Floral Designing is an ideal course for someone who wants to study at our school, yet has time considerations.
It is a great way to come to Boston a major tourist destination, and not only enjoy a great vacation, but also take a unique and fun artistic hands-on workshop.
It is ideal for anyone who wants to elevate their floral art skills quickly.
It is an ideal way to earn a diploma in floral designing in a live, hands-on program of short duration.
It is great for folks seeking a short duration floral art course offered during the day time.
It is perfect for people with complicated scheduling issues.
It is great for stress reduction.
It is a wonderful way for folks who would like to get out, socialize and meet new people.
It is ideal for folks seeking a spring or summer fun program for self enrichment.
It has the added benefit of providing professional level skills meaning that even if you are taking it for fun, there is money making potential for those who want to moonlight or for those with an entrepreneurial slant.
Although this program covers material at a faster pace than our other courses, it has been developed by people with graduate degrees in education, and is carefully paced so that you will still learn & have a great time!!! We are quite fussy about that. We want you to learn efficiently.

We take pride in that many of our students look back at their classes here as one of the nicest things they've ever done for themselves. We definitely want the learning experience to be amazing and fun.


WHEN IS IT OFFERED?
We offer this program during April, during June, during late July/Early Aug and in early Fall September. (Call us for exact schedule).
As in all of our floral design courses, our Concentrated Day Course has as its primary emphasis, hands-on workshop designing. While the course definitely teaches professional level skills, many people really enjoy taking it for enrichment, stress reduction & social purposes as well. It's a serious course that is also great fun!!!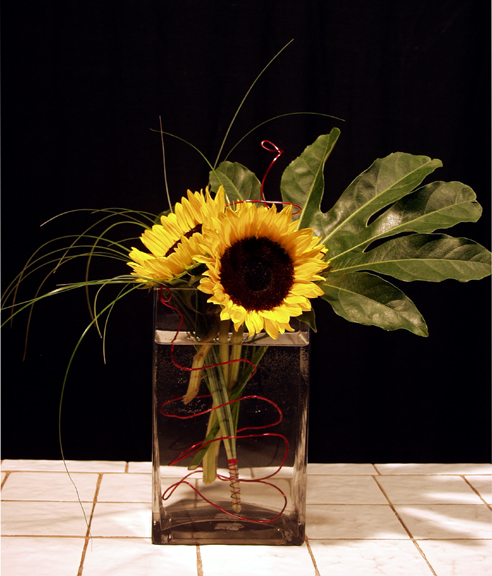 True to the Rittner formula of giving great value, you'll be designing with a variety of materials & taking home every floral design that you stylize. (not just some flowers used during the day... EVERY floral design you make--you take home--so that you can get bragging rights!)
SO WHAT WILL I LEARN ?
All kinds of great stuff..... You're gonna love this course!

The Concentrated Course Contents Include:
Vase Arrangements
Wedding Designs
Tribute Floral Designs
Flowers To Wear
Novelty Floral Designs
Some Party Floral Art
A Nice Mix of Traditional & Contemporary Styles
The designing in our Concentrated Day Program is quite varied and intense.
Students master a wide variety styles and techniques. Want to learn how to make those designs under water? You will do it! Curious about how florists stylize those spiral wedding bouquets that are rounded with all those stems? You will master it! You will not only learn how to design in foam and in water based media, but you will learn how to create florals under the water level--popular for parties and events.... Multilevel floral art, how to incorporate tropicals into your floral art, and a large range of designs and techniques are mastered. European and Eastern techniques as they enhance American Floral Approaches are presented. Students become familiar with an assortment of advanced concepts such as clustering, grouping, framing, pave, parallelism and more!
One thing that we are proud about is that we go far beyond simply providing formulas for making floral art. We also teach how how to use the techniques presented in the lessons and apply them to a range of customer needs. In other words we teach you to think like a floral designer, rather than simply presenting a "paint-by-numbers" approach. This approach creates far more competent floral artists.
As professional teachers as well as outstanding designers, we are also very fussy about our pacing in this program. We don't want you to feel like you just took one of those tours that tries to visit 17 European Countries in only a few days. It's important to not only present the information but to do it in such a way that you will enjoy it and retain it!
Our approach is funky, contemporary and dynamic---and educationally sound!
Get bragging rights.... Imagine the reaction that you'll get from your friends & family as they see how your floral design skills develop!
Think of the thrill of admiring a large party design that you created!!
The Concentrated Day Course assumes no prior background, yet with our expert instruction, you'll be amazed at how much you learn in a very short time!!!
The unique format of this course, starting simply, yet incorporating intermediate and advanced techniques gives our Concentrated Day Course students amazing value!
STATED SIMPLY: THIS COURSE IS AWESOME !!!


And if you think we are enthusiastic telling you about the course, we are just as enthusiastic teaching it!
BUT WAIT.... THERE'S MORE........
EVEN THOUGH THIS IS A FLORAL DESIGN COURSE... WE WON'T LET YOU OUT OF HERE WITHOUT LEARNING SOME CRITICAL BUSINESS RELATED INFORMATION.....In addition to learning an assortment of floral designs and techniques you will also learn important information about sources of supply, how to buy, the latest thinking about conditioning your flowers and profitable pricing.
And at Rittners Floral School, we have the specialized educational facility and resources, the educational know-how, the experience, and the motivation, to be able to assemble this kind of program that is both exceptional in content, and entertaining in presentation.
STRONG BACKUP AFTER THE COURSE---
We believe that back up and support AFTER a course is just as important as the course itself. At Rittners you have a permanent school, not a temporary "school" in a borrowed area, that moves from city to city.
In other words the owner of the school is available even after the program is completed. We offer all kinds of back up, support, placement advice and assistance, and floral related guidance.
We are constantly putting photos and videos online, not just to promote our programs but to give our graduates additional resources that can be helpful when they finish a program.








---
---
---
---
Floral Business Skills Seminar an optional certificate program available to people taking the Concentrated Day or Evening Programs.
Day Course discusses our longer Six Month Day Program.
Evening Course discusses our 12 Week Fall and Winter Evening Course in floral design.
---
---