Rittners School Of Floral Design
In Boston Presents....
Fall Arrangement #1

For many fall is a favorite time of year. It signifies fun holidays such as Halloween and Thanksgiving, the changing of the seasons and pretty fall colors. Although the design presented here could be used at any time of year, we felt that we would like to present it here for fall use.
---
---
What You Will Need
Wicker Basket Container and Liner
8 Liatris
10 Yarrow
5 Dried Strelitizia Leaves
Baker fern
1/2-1 Bunch of Miniature Carnations
1/2-1 Bunch of Pompons
---
---
This design is fun to assemble and yet quite easy to make. Start by placing a plastic liner inside a wicker basket base. This is necessary to prevent leakage. Place your foam into the liner and the wicker basket. You'll notice here that the basket used in this design has been painted. Wicker baskets are now coming into your local florist in a wide variety of colors and finishes. The brown and green finish of this basket provides a nice visual anchor for this design.
Start with your foliage. In this particular case we are using baker fern also called leather leaf. Fill the base with your baker fern as shown in the picture. This covers the mechanics of the design. Because it is easier to place most of our foliage now than later, you'll note that the top of the base is covered with green. We've placed one larger piece to the back and several slightly longer stems to the left and to the right.
This design is definitely a one sided design, meant to be viewed from one direction. In order to create height in this design we've started our flower placement with three stems of liatris or blazing star. Liatris is a great flower to use to achieve linear effects. Three are placed to create a staggered effect, almost working them down in a steplike arrangment. Note how tall we are coming. Don't be shy in this area. Height adds to the importance of the design.

---
---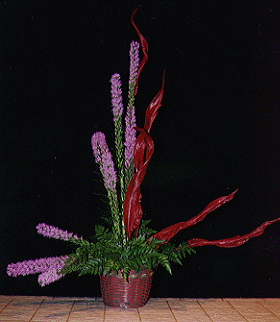 Let's achieve the overall shape of this design. Taking several more liatris, place them coming down towards the left side of the arrangement. Although it is hard to see the the photograph, one liatris is being placed in front of the other. Three more liatris are placed at the base line, extending the design off to the left.
The design needs weight to balance it on the right. Take pieces of dried strelitzia leaves and place them as shown in the photograph. Strelitzia leaves are taken from the bird of paradise. They are dried, dyed and sold to florists. Dried Strelitzia is a most interesting material to work with. They have a parchment like texture, and no two are exactly alike. They add a richness to any design into which they are placed.
Put three in the center of the design along the vertical axis formed by the liatris. Two extend out towards the right side of the arrangement. The overall effect is that of a triangular variation.

---
---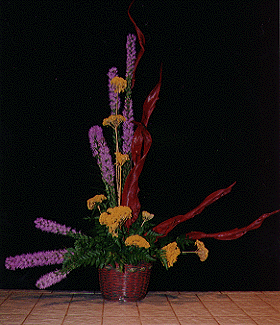 After placing our liatris and strelitzia leaves, let's start to work with some of our materials in towards the interior of the design. In this case, we're using yarrow to achieve this effect.
Yarrow is available both in live and dried forms. It is a pretty material, and provides good contrast with the stark linearity of the liatris and the curled roughness of the strelitzia leaves.
Notice that the yarrow is quite deliberately placed through the center of the design, forming an L shaped line within the overall confines of the triangular shape.

---
---
To add contrast and interest to the design let's fill in at the base with our pompons. Poms are a very good lasting flower. The variety that we are using in this unit are daisy poms, named that way because the heads bear a strong similarity to daisies. The stems, are, however, much sturdier, and the daisy pom flower a very hardy one.

---
---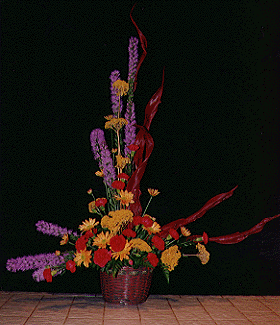 The design needs some strong contrast especially in the center. To achieve that we mix in some red miniature carnations, starting up fairly high in the center of the design, and bringing the minis right down to the baseline, working both to the left and to the right sides of the design.
The overall effect is a very large, showy and impressive design with a lot of visual punch....Certainly one that would be nice in an entry way, on a reception desk, or perhaps grace a side table in a living room.
Incidentally, change the poms to white ones, and in place of the baker fern, use pine and/or balsam and you would have a great floral design for Christmas and winter use.

---
---
We hope that you really enjoyed this brief floral design lesson. At Rittners School of Floral Design in Boston we provide floral design instruction that includes a wide range of different styles and techniques. Please come and take one of our hands-on workshop programs!!
---
---
Rittners Floral Education Center returns you to our Floral Education Center.
---
---
Your Webmaster is Dr. Steve Rittner, who may be reached at Stevrt@tiac.net. All photographs and text on this page are Copyright - Rittners School, and may not be reproduced, or used for any commercial purposes.