Rittners School of Floral Design-
The Augusta Rittner Floral Library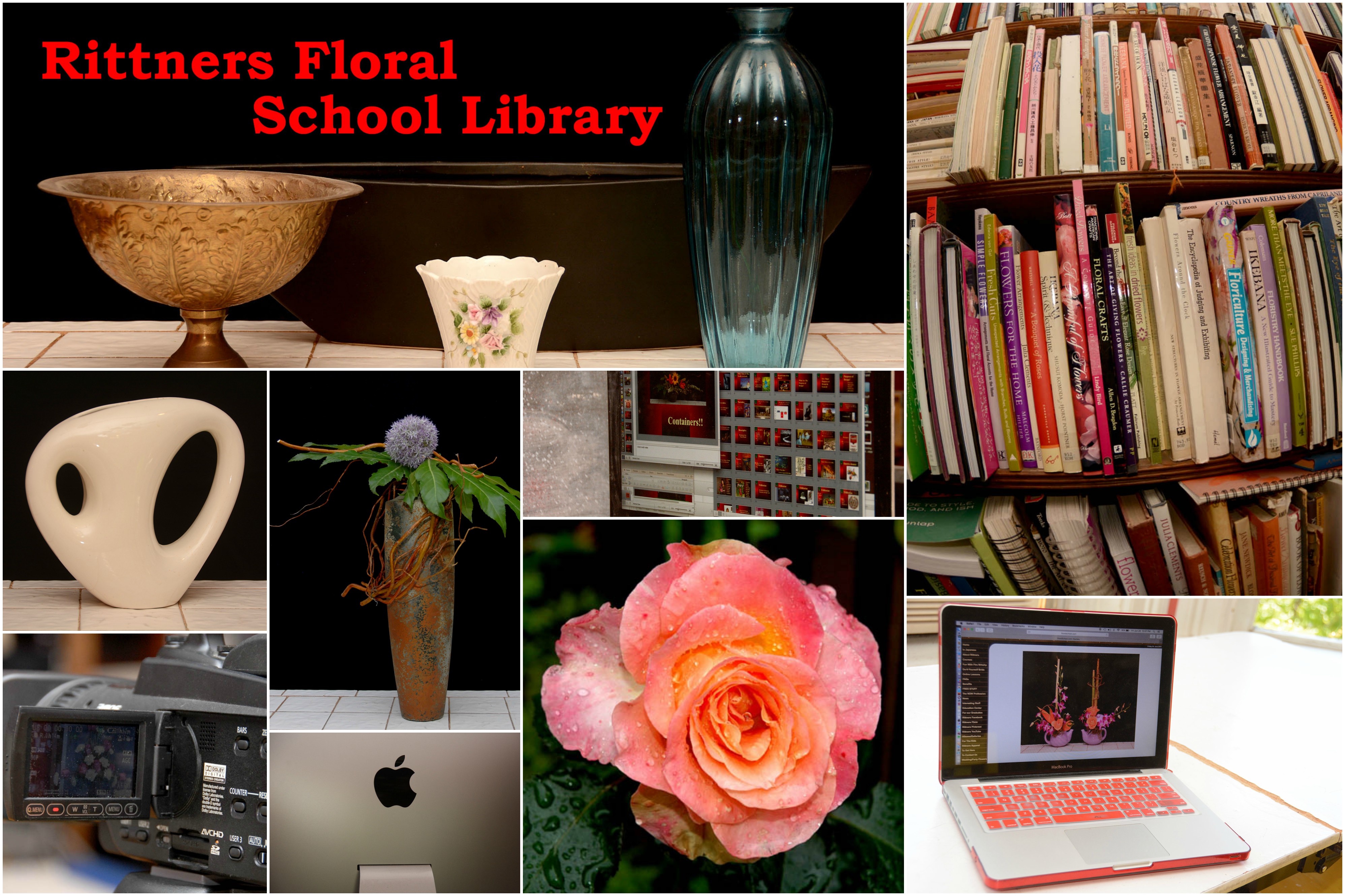 At Rittners we take pride in the fact that we have one of the finest private specialized libraries in the United States dealing with floral designing and allied subjects. Besides the obvious benefits to an educational program, and to add backup services for our students and graduates a quality library also indicates a willingness of a school to re-invest in resources that are of benefit to its students. It is part of what differentiates a real school from a retail or other setting.
The Rittners Floral School Library is an amazing blend of a variety of different media appropriate to a specialized library for a floral art school in the 21st Century.
Our library resources contain an interesting blend of print resources, digital resources, faculty developement resources and containers .....
PRINT RESOURCES
Any of you who have tried to find floral art books in bookstores realize that the number of books dealing with floral designing and allied subjects available is often quite limited. Our persistent efforts to collect floral and related books over time have resulted in a very specialized collection that is quite amazing!
What has----
* Over forty books dealing with wreaths?
* Over eighty books about collectibles?
* Over two hundred books about Christmas or Christmas decorations?
* Over one hundred and fifty books about color theory?
* Over sixty books dealing with funerals and sympathy
* Over two hundred books dealing with holidays and.....
* Over two hundred books dealing with weddings!
The Rittners Floral School Library Print Resources contains these and many additional resouces of course!

"Our floral design school library consists of over 4,800 hundred books, and hundreds of journals, and multimedia resources dealing with with a wide range of subjects."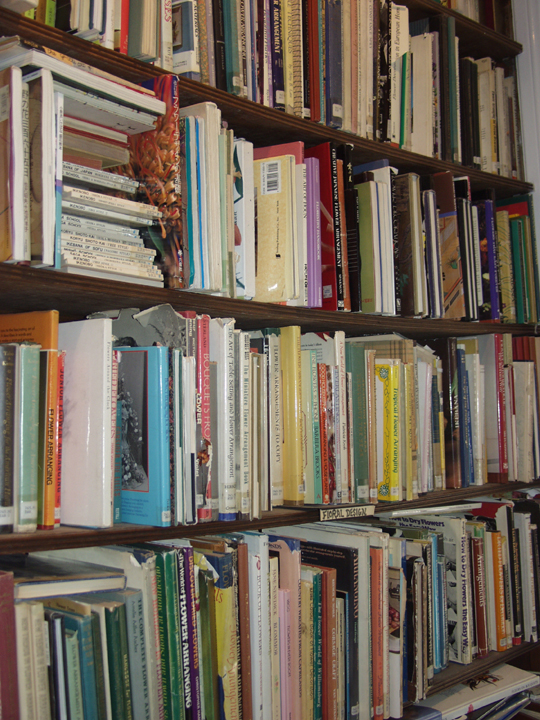 Some of the subjects in the print resources part of our library include
aesthetics and art theory
allied items
antiques
business communications
marketing
selling
color theory
conditioning flowers
crafts
creativity
customer service
fashion
gardening
plants
herbs
management
small business issues
potpourri
religion
rituals/customs and ceremonies
holidays
retailing
selling
consumer behavior
weddings
as well as floral designing of all kinds!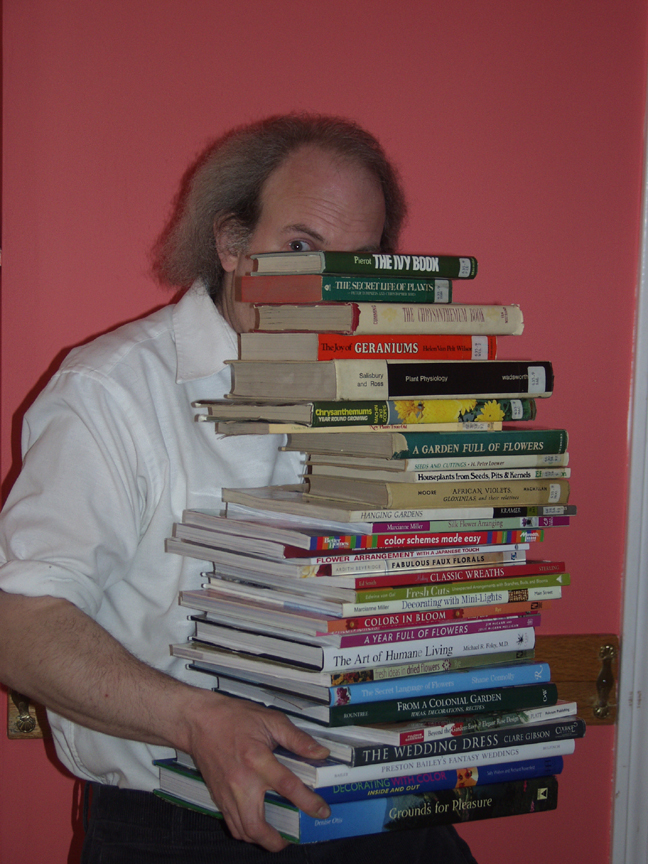 Our floral school library is very much a research collection in our very specialized field. It is enjoyed by both students and by faculty.

Sometimes students aren't even aware of the impact that the library has upon their learning experience. All of us on staff find the library a terrific way to get information, to gain inspiration, and to provide a perspective of floral art trends over time. It has repeatedly proven quite useful when we need information for articles, epublications and when seeking or confirming information to be used both online and in our lectures.

Graduates of our school who are within traveling distance of the school are allowed free access to our print libary resources even when the course is over! This has worked out well for many of our students when confronting interesting design issues or problems. A simple example: One of our graduates needed to track the history of wreaths for a public exhibition that she was doing. Our library provided her with the information she needed.
The texts in our library don't circulate, but are for use within our facility. These resources provide additional ways for students to get information that they need.

New Subjects and Current Directions: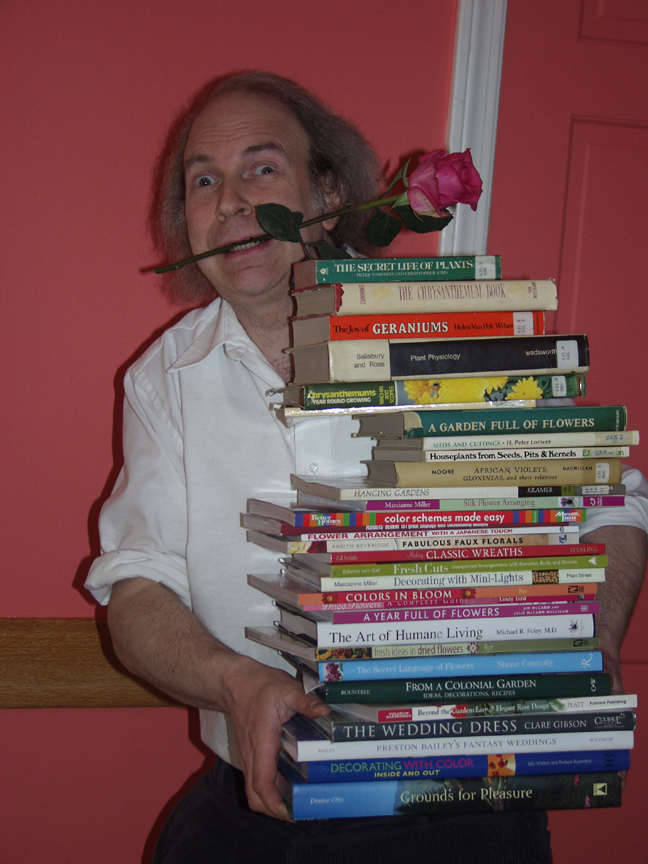 We have found that as time changes, the collection continues to grow and evolve to meet current needs. Popular subjects that we have added to in recent years have included sources that document literature about the healthy things that flowers and plants do for people and the environment, European floral styles and approaches, Halloween history, legend, lore and decoration and texts about botanicals such as hydrangea and succulents.
We are constantly adding titles to our library. As our close friends and student body are multinational, we are fortunate in that we have access to floral art books from all over the globe. We invest heavily each year buying additional books. We encourage both staff and students to request titles. If there are any interesting titles missing and someone wants an addition, as long as the price is not prohibitive, we will add it to the collection.
We are also fortunate in being able to routinely consult with a trained floral designer who also has a Master's in Library Science. (not illustrated here!) Her unique combination of skills has provided additional professional guidance in terms of developing and maintaining our collection, organizing our resources and cataloging.
A unique multiyear project has culminated in an electronic database catalog. We hope in future years to make this resource available via multiple terminals throughout our facility.
Additional Resources in The Rittners Floral School Library.....
Container Library
Digital Publications Library
Faculty Development Library
Readers Advisories
In addition to our school library we maintain a library of hundreds of unusual containers and bases of various sizes, shapes and styles which add enormously to the breadth and dimension of our teaching. Click here to read more about the various physical objects in our Container Library....
We have been collecting any and all available digital and epublications and documents that we can find that will help further our mission of teaching floral art. We also maintain an amazing collection of photographs created in house to facilitate our teaching. Click here to learn more about our digital library resources.
In addition to using our library to research various subjects, we consider ourselves not only content experts but also educators in an art form. Dr Stephen Rittner maintains a Faculty Development Library of almost one thousand texts dealing with education, and art and design subjects. Click here to learn more about our Faculty Development Library.
One of the fun aspects of having a great specialty library is the ability to be able to select items to recommend and to "curate" information. Here are some readers advisories in some specific subjects.
==========================================================================================
Are libraries containing books still relevant in the 21st Century? We believe they are. There is research evidence that suggests that libraries in general strengthen school programs. Click here for an opinion essay by Dr Stephen Rittner discussing this subject.....
===========================================================================================
We feel that it is important for a floral design school to have a world class library in floral art. A quality library is an investment of time, space and money. It is another example of the difference between a real school and a retail or other setting. It demonstrates the commitment of the school to re-invest in resources that are of benefit to its students.
"You know, that's the kind of place I would want MY family, friends or myself to attend!
---
---
I believe that the "Art in Bloom" exhibit at Boston's Museum of Fine Arts is a very, very neat concept. The idea of adding floral art to museum art offerings (resulting in a neat combination visual art) has spread and has become popular throughout North America.

Here is a very cool way this can be evolved. How about merging floral art with books/literature, creating "Books in Bloom?" The idea is a relatively new one, and is starting to show up in various libraries. The Brookline Public library along with both the Chestnut Hill and Brookline Garden Clubs featured this wonderful show. Kudos to all involved. Other libraries and both professional and amateur floral designers... take note. This is a winner!
In a page for our Floral School Library, We just couldn't help but include a link to some of the designing for "Books in Bloom!"


---
---
Our Books Don't Bite--- Dr Steve and family visited Universal down in Florida. We noticed with interest an animated book from one of the Harry Potter series that may bite if not properly handled. At Rittners we have a Floral School library of over 4800 books relating to floral art and allied subjects.. Thankfully none of them bite! (9 Photos)
---
---
Please Click here to return to our Floral School Facilities Page
Please Click here to return to our Home Page
---
---
---
---