Steve Rittner's Personal Page
| | |
| --- | --- |
| | Contents: |
---
---
---
---
---
---
My Profession
Hi. I'm Steve Rittner and welcome to my home page. I'm the director of the Rittners School of Floral Design in Boston.

It's a little unusual to meet someone who owns a floral design school, so let me tell you a little about how I got involved with this line of work. I actually came into the field by an accident of birth. The story of the Rittners School of Floral Design actually starts early in this century.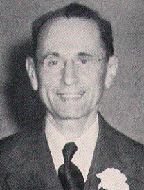 My grandparents owned a flower shop here in Boston for many decades. (The photo is of my grandfather). My Dad grew up in his parents' shop and was a second generation in the floral field. Dad got his degrees in education and opened our school with my Mom over sixty years ago.
At that time the concept of a floral design school was considered radical. In those days you had to learn floral designing the hard way. You did an apprenticeship during which you did all kinds of interesting tasks like washing the windows and the floors, and doing the prep work for the designers. If you were lucky you'd eventually be allowed to finish a floral design. As you can well imagine it often took many years to learn floral art. Some poor unfortunates still try to learn floral design that way even now. (Big mistake!)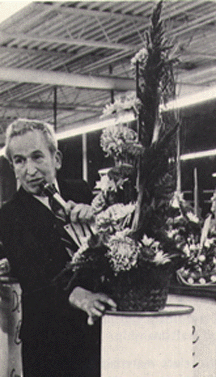 When my folks opened up our school (with my grandparents blessing & support), the idea was to create a far more efficient approach....a methodical way to learn floral art without the nonsense that often accompanied apprenticeships. Our school was one of the first of its kind in the U.S.
I grew up as a "flower shop brat." That is to say that I quite literally grew up in both the flower shop and later in the school. The concept was that to keep me out of mischief, my grandparents & parents would give me flowers to play with. It was a lot of fun, and I learned floral design from an early age. I was so proud when these designs were admired and sold. Eventually my folks closed the shop and concentrated primarily on the school. They felt that it wasn't right to train people and then to compete against them for retail trade.
As you can well imagine, when you grow up in a teaching environment of floral art, it becomes almost second nature. Conversation around the dining room table often centered around floral design and floral industry subjects. My parents wrote a number of books on floral art and it was a great environment to grow up in. I participated in many of those publications.

My folks not only taught me floral design at its best. They also set extremely high standards in terms of the kind of quality to be provided to customers. The philosophy that they set,
"Give people the best possible training that you can provide..."

"Be generous in both the information and the materials that you provide to students...."

"Set a high standard for the kind of designing that you do and teach......."

"Create a learning environment that incorporates the best in educational thinking."

"Have a full time learning facility using cutting edge media and techniques....."

"Provide the kind of programs that you would recommend to your own family & friends....."

"It's not about you....It's about them! People don't care if you stand and pose, or if you've done this or that... They care about getting a wonderful and fun educational experience..."

"Don't concentrate on 'hype.' Teaching your students and developing resources available to them is more important to them then running all over the place self-aggrandizing."
remains a standard of our school, and has given our programs an international reputation. Today my school draws folks from all over the country and from many other nations as well. Our curriculum is definitely 21st Century. But our underlying philosophy and commitment..... to provide outstanding quality and value to our students remains as strong as it was over sixty years ago when this school was first established.


---
---
Academics
Of course growing up in an academic environment, I developed a love for learning. As a kid I attended the Boston Public Schools. ( Thankfully without it doing too much damage...) I found that I enjoyed intellectual challenges. My degrees:
Bachelor of Arts from Tufts University

Bachelor of Science from Tufts University

Masters in Education from Tufts University

Doctorate in Education from Boston University
Member:
Phi Beta Kappa (Academic Honors Society)
Phi Delta Kappa (Education Honors Society)
Pi Lamda Theta (Education Honors Society)
My particular interest in education is in curriculum development. I learned from the best. In addition to my floral art background, I found the background that I received in liberal arts and education at Tufts University, and the cutting edge yet solid approach that I experienced at Boston University's School of Education to be invaluable to me both personally and professionally.
I am fascinated by differing ways of presenting information and facilitating learning. I get a real thrill trying new approaches in ways they have never been applied. I especially enjoy applying cutting edge educational approaches to the teaching of floral art. At Rittners we commonly use every educational tool that we think will help facilitate learning.
For example our facility was completely wired before that was routine. (Now it is, of course "wireless" as well.) We routinely bring the internet into our classrooms for illustrative purposes. We enjoy using the latest digital technologies, powerpoint, and other tools to present information. Video, slides and digital media have become a wonderful way to present lots of information quickly and efficiently. I believe that it is important to constantly re-invest in educational tools that will facilitate learning.....
At the same time, live time demonstration and plenty of hands-on floral designing by students remains a strong aspect of our school....
Which reminds me....with all of this discussion of cutting edge approaches in teaching floral art, in the Floral Education Center of our web site, you can even find some lessons in floral design, right here online!! ALL FREE! This area also features information about how to take care of the flowers that you bring home or receive as a gift, how to telegraph flowers and other good stuff!! By all means check out our various demonstration videos that we have posted to YouTube.
---
---
Publications
As an academic, naturally I've published. Some of the books I've co-authored or authored in my field:
Window Display For The Retail Florist
A Philosophy of Floral Designing
Bibliography of Floral Design Books For Teachers of Floral Design
Vase Arrangements For The Professional Florist
Dried Arrangements
Christmas Designs
Manual of Wedding Design Styles
Contemporary Floral Designs
Floral Designs For That Special Occasion
Inexpensive Bread & Butter Designs
I've also written articles for trade journals such as Supermarket Florist, Flora Magazine,etc.
Of particular interest has been our production of floral design videos. I've been involved in the production of numerous instructional videotapes.
We have recently developed a distance education program for our school. This has involved countless hours of writing... One friend actually counted and found well over one thousand pages......(Wow! I am getting tired just thinking about it!) I have really been enjoying developing these wonderful new resources and I find both the process of development and the results to be quite gratifying. ( By all means check out the Distance Education section of our website! We are very proud of these incredible new floral education resources.)
I love trying all the various digital/web resources and applying them to floral art... By all means please visit our Facebook Page where we constantly add photos and albums, and our Pinterest page as well....
---
---
Professional Organizations
Through the years we've had many professional associations.
They do vary from time to time.
My school is currently a member/associate member of:
Teleflora
Society of American Florists
---
Personal Stuff
---
---
You see, my family has always had a thing for Boxer dogs. Our first boxer was a fellow named Corporal. Corporal took good care of me when I was young, for he liked to push me over and gently remove ice cream cones and cookies from my hands. (It's a wonder I ever was able to eat enough to grow up!!!) In his free time Corporal also enjoyed such athletic pursuits as sailing, and getting into the garbage. Apparently, in spite of his dessert stealing ways we must have liked Corporal, for we went on to have many other boxer dogs.
---
---
---
---
Here is another one of our Boxers, one of our favorites, named Sugar Ray. He was one of my favorite boxers of all times.. This is a baby picture...
Sugar Ray was a very friendly guy. He loved people, chewing on shoes, eating, sleeping, etc. etc. etc.! Actually Sugar Ray was the sixth Boxer who has graced the Rittner household. As the mascot of our school, Sugar Ray enjoyed all of the pampering that he gots from our students. (Spoiled??? Not at all... LOL.)
---
---
---
---
---
---
---
---
---
---
Sugar Ray got a bit bigger since that baby picture. Like most folks he enjoyed his toys! He had a passion for going for drives in the car, and enjoyed his daily ride.
Oh yes......He's the one on the right.........
---
---
---
Here is a photo of our two latest boxer dog mascots, Dempsey and DavidEdward......
They are siblings and incredibly cute! Dempsey is the one on the left and DavidEdward the one on the right.
At the time of this photograph, each is approximately seventy-five to eighty pounds of Boxer love. These two little ones are indeed family......They are great, great, etc. grand nephews of Sugar Ray, and just as sweet in character! In a very short time they have already become quite popular with everyone here at Rittners!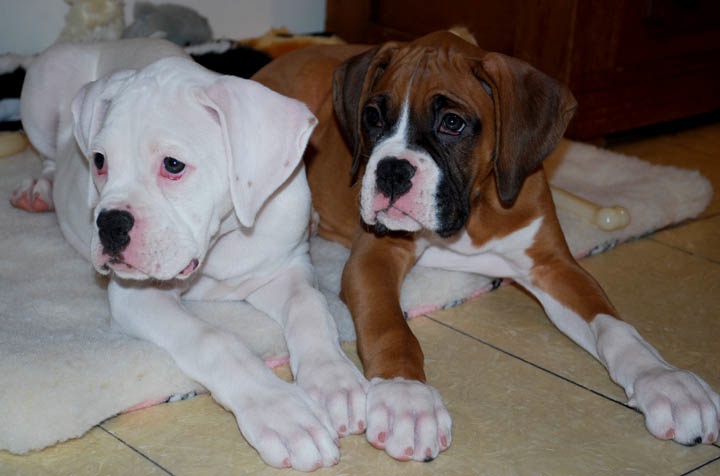 We sometimes are able to easily remember the approximate time a student attended our school by asking them the name of the dog at the time...almost like some of those old royal families (Oh...Were you in the Kelley Dynasty or the Corporal Dynasty!! Right now it is The Reign of Dempsey and DavidEdward!!")
---
---
---
---
---
---
---
---
---
---
Some folks make a clear distinction between their work and their fun.
I've been very fortunate. I've been able to include many of the things that I find to be fun into my work!! I love what I do... I really enjoy designing flowers.. I also love teaching....and curriculum development...
But beyond that , many of the things I do for fun, such as photography,(yes I am a Nikon guy), writing, and computer stuff (definitely a Mac person) ....(No offense meant to those of you who prefer Canons, or Windows..Just what I like) are invaluable to me in my work as well...
---
---
---
---
---
---
---
---
---
---
---
---
---
---
---
---
---
---
---
---
---
---
---
---
---
---
---
---
---
---
---
---
---
---
---
---
---
---
---
---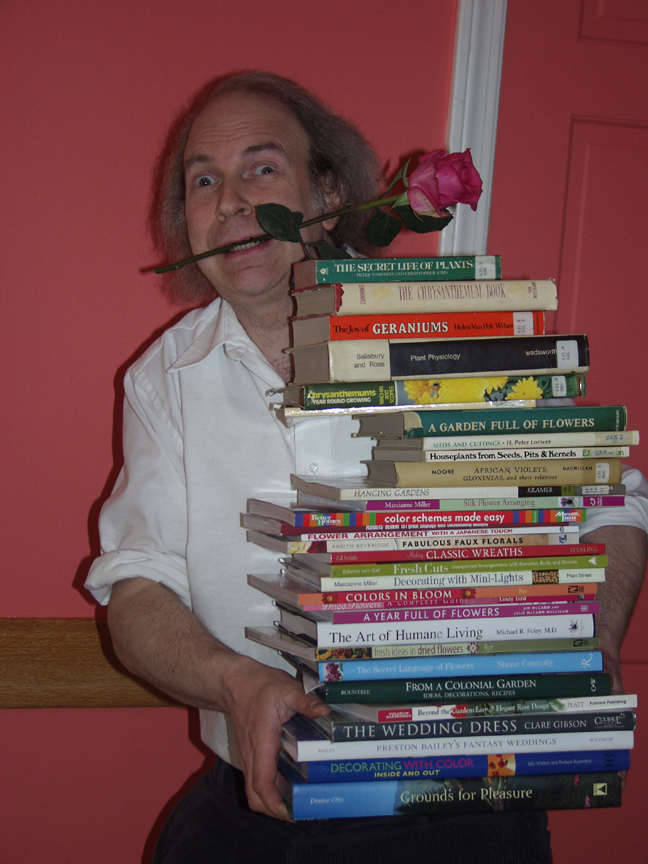 I also love reading, and books... Part of my job involves finding new and interesting books for our Floral School Library.... (It is a tough part of my job, but someone has to do it!)
Actually it is a very interesting part of my job, because a floral school library, by definition is a very specialized collection...It is challenging to find books specifically dealing with floral art. It is also quite interesting to bring in resources that deal with all kinds of allied subjects ranging from holidays, to marketing and floriculture....
We consider our library to be a wonderful resource, not only for everyday use, but also for reference and research...
Our library now has over four thousand five hundred books, and growing.... (" It's alive!!!!!!!!!!)
(And yes those books I am holding are heavy!!!!!)
---
---
---
---
---
---
---
---
---
---
---
---
---
I hope that you enjoyed visiting my home page.
Please feel free to visit me at my place of work.
Have A Nice Day!!!