Rittners School Of Floral Design
In Boston Presents....
Topiary Tree #4

We've been doing something rather interesting in the past few topiaries (Numbers one, two, three, and now four......)
Can you see what it is? If not, go back and study the past three over again very quickly....Yes...it is subtle, but can you pick out the differences between each topiary?
OK, if you haven't noticed, each topiary has the floral materials coming out just a little bit longer......In topiary one, everything is right on one plane, level to the surface........In topiary two, a few tips are coming out beyond that surface area.....In topiary three it is starting to look bushy....In this topiary (topiary four) sections of dried material are absolutely shooting out, radiating from the top section. The overall effect is rather wild yet quite attractive......
---
---
Here's a comparison of topiary one and topiary four: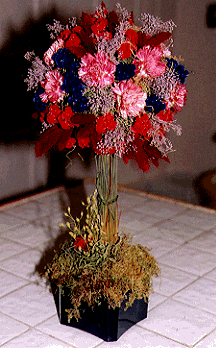 ---
---
Check Out The Following Topiaries....
Down below are many other examples of topiaries....