Rittners School Of Floral Design
In Boston Presents....
How To Make A Gorgeous Pink Vase Arrangement II
In the lesson
How To Make A Gorgeous Pink Vase Arrangement
we presented a spectacular monochromatic design with a very natural, unarranged look........
In this lesson, we want to show you how you can work from the same starting point, to come up with a design that is still very showy, but a bit different...........
A neat variation on a theme................
---
---
Perhaps it would be a good idea to examine both designs next to each other........
Both arrangements have a predominantly pink color, but with the addition of the red/violet liatris this new variation is not purely monochromatic.....
The placement of our materials is different here as well. The linearity of the liatris and the fujis make this design feel a little more formal..........
The white fujis provide an achromatic contrast........
This variation handles the roses differently as well. They are spread throughout the entire design, rather than concentrated in one spot.........
These are by no means value judgements. Simply matter of fact observations as to the contrast between the two designs that can really be instructive to you.....
Both designs are quite spectacular. I would enjoy having either in my home!!!

---
---
What You Will Need
Two containers
1 block of foam
Larkspur
Fujis
Roses
Statice
Liatris
Ming fern
---
---
We start this design as with the first by constructing the container. The bases that we are working with are pink in color, so that they will blend nicely with the rest of the design......We have taken two containers, turned one upside down, and glued the second on top of the first.....This gives a rather interesting new shape......and a small ledge on the bottom as well as the top.
We start the floral section of the design with our larkspur. Three large pieces are used to establish the height of this design....A large piece extends to the left, and another to the right.....Smaller fragments are used to fill in.
The advantage of larkspur is that it gives a very open, airy natural look.
Ming fern is used to cover our mechanics. The soft fluffy texture works well with the natural look we are trying to achieve.
A smaller section of foam is anchored on to the bottom ledge. It is greened with ming fern. A few small florets and a bow made from cellophane like ribbon are placed into that foam.

---
---
Next we add the fujis to the center of the design. Start high as shown in the photograph................
---
---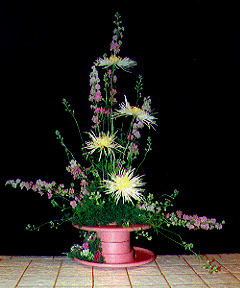 Three more fujis are added to the center of the design.
The beauty of fuji mums is that it doesn't require many to get a great show. They are large. They are showy. You can see that four flowers alone do quite nicely here!!!!
The fujis provide a nice contrast to the larkspur. One is natural and flowing. The other provides a strong stabilizing effect to the design.........
---
---
To add value and prestige to this design, nothing can make a statement better than roses.
Our handling of the roses, however, is in stark contrast to our placement of the roses in the earlier design
In that design we placed the roses into a small tuzzy muzzy like mound, very tightly in a single region of the arrangement.
In this offering, we deliberately mix the roses throughout the entire vase arrangement.........
The effect may be a little more diffuse, but it definitely says to the recipient, "Wow......Here's a design that is giving you great value, because look at all of the roses!!!!"
To fill in any empty spaces a bit of statice is interspersed throughout the design.............
We could stop this design at this stage, and consider it a finished unit............
But we won't!!!!!!!!!!!!!!!! :->

---
---
I want you to see how the addition of but three flowers can really have a large effect upon the visual presentation of the design............
Adding three liatris to the left side of the design, creates more visual weight there. But it also makes the design feel much bigger.........
---
---
Skeptical???? Let's look at these last two steps side by side!!!
Interesting, that kind of impact, isn't it?
Just as with the first pink design, this arrangement could be used for just about any occasion or event.......
Some possibilities could include:
For Valentine's Day
For a special birthday
For anniversaries
In the entry hall of a building
For a lovely bedroom
As an unusual Christmas design
In a bay window
---
---
We hope that you really enjoyed this brief floral design lesson. At Rittners Floral School in Boston we provide floral design instruction that includes a wide range of different styles and techniques. Please come and take one of our hands-on workshop programs!!
---
---
Floral Education Center returns you to our Floral Education Center.
---
---
Your Webmaster is Dr. Steve Rittner, who may be reached at Stevrt@tiac.net. All photographs and text on this page are Copyright - Rittners School, and may not be reproduced, or used for any commercial purposes.