Rittners School Of Floral Design
In Boston Presents....
Contemporary Nest Design

This is a design that is very easy to make, yet quite spectacular in appearance.
We call it a nest design.
Notice that in this case it is stylized on a very tall container, or combination of several or more containers that have been sealed together. Should you attach more than one container together to make something as tall as this, be sure that you have enough weight down below to balance the weight of the flowers on the top.
This design gives a very rich full look, but is incredibly quick and easy to do. It is also economical to make. Notice the contents listed below. This design required only a small sunflower, and a stem or two of poms, miniature carnations, spray roses, and a few roses. That's not much considering the full abundant effect.
This kind of design is great for the fall because of the colors that we have used here. However with appropriate choice of color and materials it could be adapted for just about any holiday or any season of the year.
---
---
What You Will Need
Very tall container
block or two of foam
A sunflower
Stem or two of novelty poms
Stem or two of miniature carnations
Stem of spray roses
Two or three roses
Moss
Raffia
---
---
We start this design by securing foam into the container. The design is actually constructed from the center out.
Place the sunflower into the middle of the foam on the top of the base.
Surround the sunflower first, with the poms, then, the roses, then the miniature carnations and lastly with the spray roses.
Randomly place these materials, leaving space so that you can fill in with the other flowers as shown.
Cover your mechanics. Sheet or spanish moss would work quite nicely for this. In the illustration here, you'll note that we used sheet moss.
---
---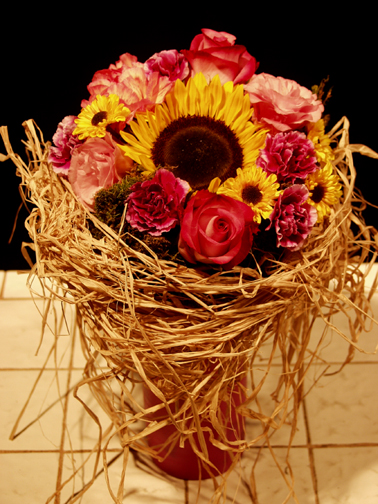 Finish the design by wrapping raffia around the top construction.
The overall effect, feels almost like a "nest" which is why we call it a contemporary nest design.
---
---
Combination for Valentines Day: Heavier on the roses, red, pink and white carnations
For St Patrick's Day, consider using a combination of green carnations, bells of ireland, and white poms, roses, and/or miniature carnations.
For Easter, consider this design using yellow lilies, and lavendar tulips, mixed with white miniature carnations and pink spray roses
Consider Spanish moss, or possibly babysbreath as alternatives for the raffia nest effect.
---
---
We hope that you really enjoyed this brief floral design lesson. At Rittners Floral School in Boston we provide floral design instruction that includes a wide range of different styles and techniques. Please come and take one of our hands-on workshop programs!!
---
---
Rittners Floral Education Center returns you to our Floral Education Center.
---
---
Your Webmaster is Dr. Steve Rittner, who may be reached at Stevrt@tiac.net. All photographs and text on this page are Copyright - Rittners School, and may not be reproduced, or used for any commercial purposes.