Rittners School Of Floral Design
In Boston Presents....
How To Make A Valentine's Vase Arrangement
This is a design definitely intended for Valentine's Day. The symbolic Cupid plus the ever popular roses certainly set it apart as a design specifically intended for the holiday.....
It should be noted, however, that there are an enormous range of vase arrangements, cut flowers, plants, gift baskets and gift items sold in flower shops that are also quite appropriate for the holiday.
Many of the other vase arrangements featured in our Floral Education Center, could easily be used for Valentine's Day. The very fact that you stylize an arrangement yourself, for your significant other, is a wonderful expression of love!!
On the other hand, for an entire guide to your floral purchases for this holiday, be sure to visit
Our Tips For Buying Flowers On Valentine's Day.
---
---
---
What You Will Need
Large plastic tray
1 block of foam
Dried strelitzia leaves
Ming fern
Stock
Sweet william
Roses
Statice
---
---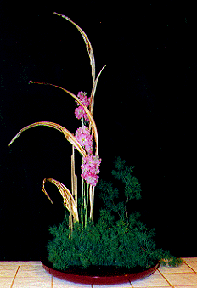 We start this design by placing one block of foam into a low flat plastic container. The base that we are using is a utility dish, meaning an inexpensive container. However, you can use any container that you'd like. Cover the base with your foliage. In this case we are using ming fern, which is a very nice, soft, yet rich looking green.
Let's create a high point for our design. We are using dried strelitzia leaves to do so. You will very rarely find strelitzia or bird of paradise ever sold with its foliage left intact. Usually the foliage is taken off and the flowers are sold separately.
Our floral importers, however, dry the leaves, tint them a variety of colors, and package and sell them separately.
In this design four dried strelitzia leaves are featured on the left side of the design. Because of the length of the stems (approx three to three and one half feet at its tallest) this design is immediately made into a rather large one.
The lower three stems had sections cut off. Even these are not wasted. If you study the photograph closely, you'll see these sections also worked into the top of the foam.
Pink stock is placed in a vertical line, in between the first three dried strelitzia leaves. Stock or matthiola is available throughout the year. It comes in a variety of colors ranging from white, to pink to red.
---
---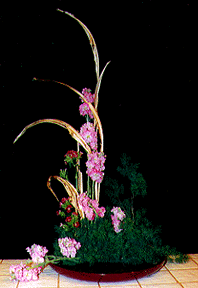 More stock is placed gradually coming in to the base of the design
A few pieces are extended out towards the left side of the arrangement.
Sweet william, is added along the vertical part of the design on the outer left side of the unit. Sweet william is a very pretty flower and comes in reds and pinks, making it an ideal choice color wise. Now you may find it in short or limited supply in Feburary. If that is the case, consider using carnations or gerbera in its place.
---
---
Cupid makes his debut in this next step.
Cupid, son of Venus Roman goddess of love, has long been associated with passion!!
Time hasn't been all that kind to Cupid. Originally viewed as a hunk, now we generally see Cupid portrayed as a rather vertically challenged little munchkin. (Oh, well, I suppose it could be worse.......Look what they did to St. Nicholas!!!)
The Cupid placed in this design is hand fashioned from styrofoam. The styrofoam is cut out in the shape of Cupid and decorated with glitter. Glue is necessary to make sure that the glitter adheres to the base of the styrofoam. Cupid is attached to the foam base with picks.
The actual baseline of the design, however, still looks empty......So we still have a couple of things to take care of..............
---
---
Let's start working some of our flowers down at the baseline of this arrangement.
I can think of no better flower to use than our roses.
These are followed with a little more sweet william towards the left base of this design
---
---
To provide a little variation, let's continue to fill in on the base of the design. Instead of more sweet william, we have chosen to fill in with some of our statice.
The completed design is big and impressive.
Now, we have chosen to present this arrangement as a Valentine's Day Design. However, we could very easily alter this design, and adapt it to many other holidays and occasions.
For example, add a styrofoam leprechaun or pot of gold. Use bells of ireland, green and white carnations and miniature carnations and you have a great St. Patrick's Day Design.
Use a styrofoam bunny, and mix with say, tulips, iris, daffodils, and heather and you've got a really neat Easter design.
Add a styrofoam cut out of Rudolf, or Santa head. Use Christmas foliage. Add poinsettias, red, pink and white carnations, miniature carnations and gerbera, and you have a very nice Christmas design.
In other words, once you have mastered this particular design, it is very easy to reapply it to so many other special occasions and events.
---
---
We hope that you really enjoyed this brief floral design lesson. At Rittners Floral School in Boston we provide floral design instruction that includes a wide range of different styles and techniques. Please come and take one of our hands-on workshop programs!!
---
---
Floral Education Center returns you to our Floral Education Center.
---
---
Your Webmaster is Dr. Steve Rittner, who may be reached at Stevrt@tiac.net. All photographs and text on this page are Copyright - Rittners School, and may not be reproduced, or used for any commercial purposes.