Rittners School Of Floral Design
In Boston Presents.....
How To Make A Simple Sunflower Vase Arrangement
In the past few years sunflowers have been rediscovered by people and have been enjoying a well deserved popularity......
It is easy to understand why......
They are big...
They are bold......
They are colorful.......
They are bright............
They attract attention........
They are cheerful................
They command a strong presence in any setting........
It should come as no surprise, then, that we are going to encourage you to play with these wonderful materials...........
---
---
What You Will Need
Utility container
1/2 block of foam
Sunflowers
3 Cremon poms
Two lotus pods
Sabel palm
Oregonia
---
---
We start this design by placing one half block of foam into a container. The base that we are using is a utility dish, meaning an inexpensive container. However, you can use any container that you'd like.
To create the height of this arrangement we start by placing our sabel palm as shown in the photograph. The sabel palm has been dried and tinted. It introduces a very strong vertical element into this arrangement from the start....That is very important as the flowers to be used are so big that a very large space will be necessary to properly contain them..............
Orgonia is the foliage placed into the bottom section of the design......Oregonia is a wonderful foliage.......It is available throughout the year......It comes with a variegated green-white kind of foliage........It is a very good keeping foliage, and works well to cover space quite quickly......I also enjoy using this foliage for topiaries......It can serve well as a substitute for boxwood, should you want the visual effect of boxwood, but not find it available.
To create a focal area in our design, place several lotus pods.
Lotus pods have traditionally been very popular with American floral designers.......who have had this material available to them for many, many years.......Lotus pods are a fairly big dried material. It is necessary to use something fairly large to give balance to the sunflowers that will be placed into this design.....
To give a greater feeling of richness, and to provide contrast to the yellow glow of the sunflowers yet to be placed, the lotus pods have been dyed a metallic copper color.........
---
---
I know that you are anxious to see the sunflowers themselves, but we still have one more step to accomplish prior to their insertion......The sunflowers by themselves would make this design feel very very uniform......In a standard triangle that would be visually understated........So let's add a counterpoint to the sunflowers through the use of another equally interesting material, namely our cremon poms....
Cremon poms are big, showy and come in a variety of colors.....
They are a good keeping flower, sold throughout the year......
By placing three cremons into a step like arrangement we are creating additional interest to our design......

---
---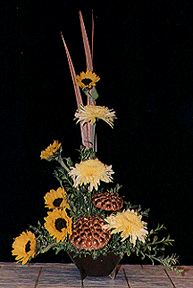 OK!!! Let's go for it!!!!
Let's start to add our sunflowers to this design...
Notice how we start with one sunflower rather high, following the sabel palm.......
Other sunflowers are used to fill in the left side of this design...
Sunflower insertion must be a little deeper into the foam than other lighter flowers........Remember they are a very heavy flower!!
The sunflowers are deliberately placed at different angles........They are not placed in even rows. This helps to provide a bit of visual variety and creates interest. We are deliberately making sure that the design is not overly "predictable."

---
---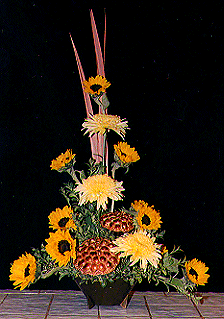 More sunflowers are added to the right side of the arrangement.......
As on the left side, the sunflowers are deliberately placed at different angles........to add to the visual interest in what would otherwise be rather predictable triangle.........
This arrangement would work very well anywhere where you need a very large design........
I could see this design being placed quite effectively in a kitchen or dining area.....for it would be quite cheerful to behold, especially first thing in the morning.........
It would also be a great design to place into an area with a contrasting color.......For example, picture this design in a bedroom that is predominantly blue.......This would provide a great colorful counterpoint....... Placed into an area with predominantly violet hues, it would provide a complementary color harmony...........
Best of all, this design is very easy for the amateur floral designer to make and enjoy!! The bright cheerful sunflowers really do most of the work for you!!!
Try it!!! And enjoy!!!!
---
---
We hope that you really enjoyed this brief floral design lesson. At Rittners Floral School in Boston we provide floral design instruction that includes a wide range of different styles and techniques. Please come and take one of our hands-on workshop programs!!
---
---
Floral Education Center returns you to our Floral Education Center.
---
---
Your Webmaster is Dr. Steve Rittner, who may be reached at Stevrt@tiac.net. All photographs and text on this page are Copyright - Rittners School, and may not be reproduced, or used for any commercial purposes.