Rittners School Of Floral Design
In Boston Presents....
Quick & Easy Striped Table Centerpiece
At Rittners we take pride in that all of our courses start simply, yet also include advanced floral design techniques and approaches.
Itis amazing how you can take a single technique and by knowing it and using it, come up with some really interesting effects.
This is a case in point. Here is a table centerpiece.
Most folks could put this one together in a matter of minutes. It is fast. It is easy. It is fun!
It is also quite visually striking. The bands of flowers, concentrated together give this design impact and appeal.
It is so very different then the standard mass produced arrangement.
Just a small example of how here at Rittners Floral School, our students learn a wide variety of floral design tricks and techniques--both simple and more complex--that can help them profit in the field!!
That's why people have said for almost sixty years......"If you really want to learn floral designing.......Go to Rittners Floral School!"
---
---
What You Will Need
Small Utility Container
Foam
Four Fuji Mums
Five Carnations
A stem or two of pink larkspur
A stem or two of blue larkspur
Some statice
---
---

We start this design by securing foam in the container. The container is actually an inexpensive plastic container. Notice, however, the silver finish. When I was a kid, an inexpensive container was just that...rather "chinchy." Our modern manufacturers and wholesalers have changed the way we look at utility containers. They may be inexpensive, but they need not look cheap. This simple plastic base with a silver finish is quite attractive, and very practical when one has budget constraints.
On the other hand, if this design was going to be presented to someone as a gift, and you wanted the recipient to actually have a keepsake that could become a family heirloom, certainly more costly bases could be used.....


---
---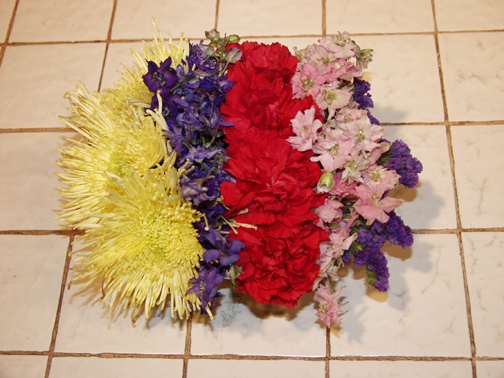 Construction of this design is quick, simple and efficient.
Start at the left side of the arrangement and place four fuji mums in a row.
Continue, working towards the right with a row of blue larkspur. Larkspur is a rather linear flower, so that you will have to cut it down into pieces to get this effect.
Next, continue with another row, this time of five carnations.
Our next row is larkspur again, only this time a pink variety.
Finish the right side of the design with some statice, broken up into small sections.
The amounts that you will use of all of these flowers, may vary depending upon the size of your container--how wide it is, etc.
A nice byproduct of the way this design is constructed, is that your flowers not only are aesthetically pleasing but they are functional as well. In this arrangement there is no need for additional foliage, moss, etc. to cover your stems. While you are designing with your flowers, you are simultaneously covering your mechanics.
There are many ways this kind of design can be varied, depending upon the materials used, the time of the year and the occasion. You may, for example consider making this design with rows of different color lilies or different color roses. You could use a combination of lilies and roses alternating with each other. How about a springtime look, creating lines with tulips, iris and daffodils. For an expensive look, lets place rows of various orchids! For a Valentine look, let's use red and/or pink roses interspersed with pink or white miniature carnations. If we wanted to make this for St. Patrick's Day we could use green carnations and white poms and miniature carnations. In other words, it's a very simple design, but easy to change and adapt to varying needs.


---
---
We hope that you really enjoyed this brief floral design lesson. At Rittners Floral School in Boston we provide floral design instruction that includes a wide range of different styles and techniques. Please come and take one of our hands-on workshop programs!!
---
---
Rittners Floral Education Center returns you to our Floral Education Center.
---
---
Your Webmaster is Dr. Steve Rittner, who may be reached at Stevrt@tiac.net. All photographs and text on this page are Copyright - Rittners School, and may not be reproduced, or used for any commercial purposes.