Rittners School Of Floral Design
In Boston Presents....
How To Make A Round Bouquet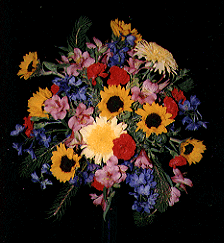 Isn't this a lovely design??
In this lesson you'll see a lovely round bouquet.
The appeal of this design is that it is big, bold and colorful, presenting a wonderful mixture of all kinds of flowers!!!
As with all bouquets shown our Floral Education Center we believe that on your wedding day you have more than enough to deal with in terms of your guests and details of your bridal party. We do not recommend doing your bouquets yourself.....or leaving them to any amateurs......You don't need the extra pressure on that special day. Leave the construction of your wedding designs to your florist. S/he will stylize something special for you that will meet your every need. Wedding bouquets really do require skill, and ability, not do-it-yourself attempts.....
We are showing you these steps so that you'll appreciate the skills provided by your florist and the labor required to do these.......
---
---
Contents of This Design
Foam base
Picks
Spike foliage
Cremon poms
Very small sunflowers
Spike flowers
Alstroemeria
Miniature carnations
Foliage to cover mechanics
---
---
This design is stylized in a foam bouquet base, (a fairly good sized one to accomodate all of the materials.) Extra picks may be added to the bottoms of the stems to help prevent flower loss.
To start a design such as this one, the overall shape or form must be created. In this case foliage provides the shape. Our wholesaler identified the foliage as a kind of pine, however juniper, lycopodium, or myrtle are also good candidates.
To add to the round shape and help provide substance and body to the design a spike flower is used. Possible materials would include delphinium, larkspur, heather, etc.
We then started to add some of our face flowers to the design. In this case several cremon poms and a very small sunflower.
Foliage can be used to assure that the mechanics are covered.
---
---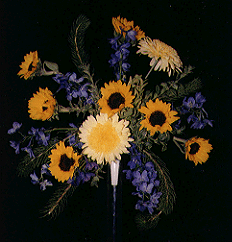 We are adding more very small sunflowers to gradually fill in through the middle of this design......
---
---
Alstroemeria are a wonderful flower. They come in a variety of colors ranging from pinks, and reds, to yellows and oranges. They are a very good keeping flower, and come with multiple florets on each stem. Notice how they provide contrast with our blue spike materials and yellow sunflowers and cremons.
---
---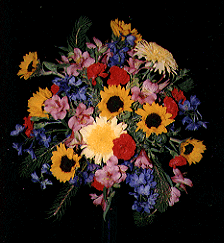 The design thus far has been quite subtle in terms of color. To add a touch of brightness and to complete the unit we add red miniature carnations....
The overall effect is natural, cheerful and abundant.......
Although this design is presented as a bouquet, it could very easily be translated into other kinds of bases. For example, once in a while you'll find a container meant to be hung on a wall. Something like this would work well in that context. It could also be stylized quite nicely in a fairly tall pedestal container. It could be constructed in either of these contexts using live materials or silk.....
---
---
We hope that you really enjoyed this round bouquet. At Rittners Floral School in Boston we provide floral design instruction that includes a wide range of different styles and techniques. Please come and take one of our hands-on workshop programs!!
---
---
Floral Education Center returns you to our Floral Education Center.
---
---
Your Webmaster is Dr. Steve Rittner, who may be reached at Stevrt@tiac.net. All photographs and text on this page are Copyright - Rittners School, and may not be reproduced, or used for any commercial purposes.