Out of all of the flowers available to the American consumer, the rose is probably one of the most beloved and most treasured........
It is easy to understand why......
Roses have been one of the most popular flowers throughout the world in many cultures, for thousands of years...
They come in a variety of magnificent colors.
They have a wonderful rich texture to them......
And let's not forget that heavenly scent...........
Ming fern
---
---
We start this design by placing one half block of foam into a container. The base that we are using is a utility dish, meaning an inexpensive container. However, we have jazzed it up.......
Note that we have taken two of these utility containers, placed one upside down, and glued the two bases together....
This makes the container much taller, and visually more interesting.....
A bit of ribbon is glued to the intersection of the two containers to provide a more finished look.
The shape of the design is defined by our foliage......
In this case we are using a tall leafy foliage such as Aspidistra or Ti leaves. (You could use either kind of foliage, depending upon product availability in your area......Either will create the desired visual effect.)
The foliage really defines this design as a fairly large one....
To cover our mechanics, we are adding some soft graceful ming fern into the focal area of the design.......
It is interesting to see how different foliages can fulfill differing functions in a floral design.........This arrangement provides a good comparison of structural functions of some foliages, as opposed to mechanic covering functions of others.
---
---
We strongly recommend that you properly condition the flowers you use, before you stylize any floral design.
This is necessary for the longest life span of the flowers, and for customer (or your own) satisfaction.
It is especially critical for roses....
We place the roses as shown in the photograph in front of the foliage.......
At this point we could say that our design is effectively completed........
But let's add one more flower to the mix!!!
---
---
Liatris or blazing star is a wonderful flower.
It is available throughout the year.......
It has a rather interesting blooming pattern...........In many other flowers we see buds at the top, and more open blooms down below.........With liatris, it is the opposite. The flower blooms from the top down, and the buds are down below!!
Liatris are a great linear material, and work very well to create line quickly
In this design, however, we are using the liatris as a filler type material.......
Notice how the liatris is being used to "fill" in between the roses......
---
---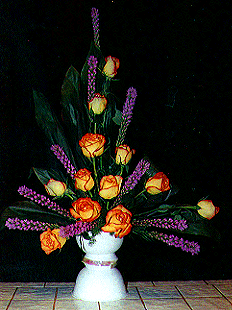 The remainder of our liatris is placed as shown in the photograph...........Notice how the addition of liatris provides the design with more value, more visual weight......and gives the unit a more completed look....
---
---
Here is a good comparison of the arrangement with and without the liatris!!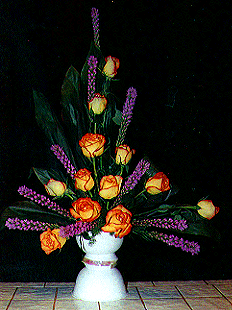 ---
---
This arrangement would be good for just about any occasion.
I could see this design being used as a gift when someone visits a loved one......
It would also be a great design as a birthday gift.....
It would be appropriate for anniversaries as well........
Consider this for someone sick at home or in the hospital..........
It should go without saying that this arrangement would be ideal for Valentine use as well.......
Keep in mind that roses do come in a variety of colors......Make use of this in your floral art......Red roses are lovely, but some of our other varieties as illustrated in this design may be even more appropriate depending upon the tastes of the recipient and the interior into which the design may be placed....
---
---
We hope that you really enjoyed this brief floral design lesson. At Rittners Floral School in Boston we provide floral design instruction that includes a wide range of different styles and techniques. Please come and take one of our hands-on workshop programs!!
---
---