Rittners School Of Floral Design
In Boston Presents....
Novelty Container Arrangement

This is a fun design to make and one that will definitely get alot of attention from your friends and relatives.
The first thing that you may note when looking at this piece is the container in which it was stylized. It is a good imitation of a wheel cart. This one is made using metallic materials, and has a nice bronze feel to it.
---
---
What You Will Need
Sea Grape Leaves
Dried Materials
Curly Willow
Pom Pons-Two Different Colors
Miniature Carnations
Spanish Moss
Foam
Container
---
---
The container is cute, but we have to take precautions with it. If you are planning to stylize a design using live flowers you have to be sure that your base can hold foam without leaking water. If that is not the case, you could have a rather wet and messy situation.
There are several options. One is to simply use silk materials (and that eliminates the wet foam!). The second is to take a small plastic dish about the same size as the base and place it into the container as a "liner." Then place foam into the plastic liner and you are all ready to make your design!
Start with your dried materials. Wheat, barley bunny tails or any bundle of dried materials can be used to create the "plume" like effect of the dried content. The ends of the stems can be placed in upside down for added interest.
Curly willow forms the branchy-like materials on the left. If you don't have curly willow, any branchy type materials will work fine.
Two sea grape leaves are placed into the foam on the left, and a dyed lotus pod is placed into the center of the design.
---
---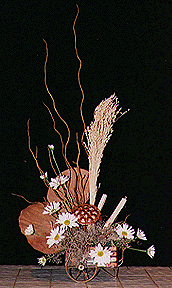 Notice that we are covering the mechanics with spanish moss. This can be placed early as shown in these illustrations, or added later after all of our flowers are put into place. Be sure to buy your moss materials from your local florist. Don't pick them from the wild as you could end up with insects in your design and your house, and that could ruin your whole day (smile).
Let's start to add some actual flowers to the mix. In this case we're using daisy poms. Notice how they are placed. Some are placed up in between the branches. Some off to the left, and others off to the right. The overall effect of the poms suggests a triangular variation. Still, there are holes in the design and they need to be filled in.
---
---
Add some more pom pons into the design to fill in the gaps. For contrast we're using yellow poms as shown here. Notice that they are being placed to the right of the dried cluster, and down into the focal area front of the design. We could stop the design at this point and it is very attractive.
---
---
On the other hand, to create more value, and added contrast in both shape and color, we may add a few miniature carnations through the design as illustrated here.
The overall effect looks rather complex, but outside of the dried materials, the arrangement consists of a just a few stems of yellow and white poms, and a few miniature carnations. The combination of colors plus the mixture with dried materials in a novelty container, make this design seem more intricate than it really is.
Although we used a container that looks like a wagon or cart, this opens up all kinds of novelty possibilities....Stylize designs in toy wagons, toy cars, to really create neat effects. One note....if a friend or family like a particular automobile, you will be a real hero, if you stylize a design in a small version of that person's favorite car. It can be used for Christmas, for birthdays, to decorate the house, or just about at any time throughout the year.
---
---
We hope that you really enjoyed this brief floral design lesson. At Rittners School of Floral Design in Boston we provide floral design instruction that includes a wide range of different styles and techniques. Please come and take one of our hands-on workshop programs!!
---
---
Rittners Floral Education Center returns you to our gallery page.
---
---
Your Webmaster is Dr. Steve Rittner, who may be reached at Stevrt@tiac.net. All photographs and text on this page are Copyright - Rittners School, and may not be reproduced, or used for any commercial purposes.