Rittners School Of Floral Design
In Boston Presents....
Horizontal Vase Arrangement-Contemporary Layered Technique



This is a design that is very easy to make, yet quite spectacular in appearance.

It is a horizontal vase arrangement.

Technique-wise, however, it is quite interesting.

We normally think of horizontal vase arrangements as centerpieces placed in long and low, flat containers. Notice that this design is elevated rather high in the air.

We also normally consider horizontal vase arrangements to be centerpieces, viewable all the way around. This design definitely has a front side as well as a back side. So it is not a typical centerpiece to be viewed from all angles.

The materials used in this design are also quite interesting. A medley of various tropical materials are combined with some everyday flowers such as carnations and fujis.

No. This is definitely not your father's horizontal vase arrangement!
---
---
What You Will Need
Very tall container
Block or two of foam
Three Fuji Mums
Five Carnations
Seven Heliconia (several different varieties)
Three Ti Leaves or Three Aspidistra Leaves
Seven Ginger
Two Bell Cups
Moss
Baker Fern or other cover foliage
Curly Willow
---
---
We start this design by securing foam in the container. The design is actually constructed from the center out.

Start by concentrating your fuji mums into a cluster in the center of the foam.

Place several Bell Cups underneath and slightly to the left. Bell Cups are from India and together with the mums, contribute to a wonderful focal area in this design. The bell cups that we are using here are painted gold and glittered, so they give a rather "glitzy" effect.

Start adding rows of floral materials, first at the baseline of the arrangement.

Start with several heliconia, at the far left. Continue towards your focal area with foliage. Notice that three large leaves are looped and placed to the left of the bell cups. Aspidistra leaves work well for this. Ti leaves are another great option.
---
---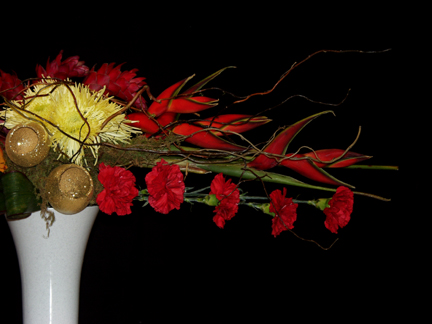 Continue the line with a row of carnations. In this case we used five of them.

The overall effect, creates a linear row starting at the far left side with heliconia and proceeding through the foliage, and the bell cups to the carnations at the far right.



---
---
Now create a second row of materials above the first row. Ginger and heliconia on the left and large heliconia on the right create your second row or level.

Finally place additional ginger to frame the overall shape of the design, upwards and around the fujis, continuing to the right of the design with several more heliconia.



---
---
Notice that we've achieved a gentle oval, horizontal shape, coming up slightly higher in the back with our flowers.

In traditional horizontal arranging, the flowers are usually mixed all together. In the piece presented here, you have various levels or layers, hence the name "layered technique." For those of us knowledgeable about contemporary floral art, it would be similar to parallelism, yet tipped on its side!

Mechanics in the back of this design must be covered, with baker or some other foliage or moss. Similarly mechanics in the front are covered, in this case with some sheet moss. Some sheet moss is used towards the right front of the design as a decorative element in its own right.

To give the design more of a dynamic range, curly willow is then interwoven through the top of this design, over the flowers, creating a wilder looking counterpoint to the regularity of the more static, linear flowers.

This design is not a small one. The overall span from left to right on this kind of design can run approximately three and a half to five feet. (In the design presented here, approx. four). This implies that you have to be very definitive in your placement and mechanics for this design to achieve stability.



---
---
We hope that you really enjoyed this brief floral design lesson. At Rittners Floral School in Boston we provide floral design instruction that includes a wide range of different styles and techniques. Please come and take one of our hands-on workshop programs!!
---
---
Rittners Floral Education Center returns you to our Floral Education Center.
---
---
Your Webmaster is Dr. Steve Rittner, who may be reached at Stevrt@tiac.net. All photographs and text on this page are Copyright - Rittners School, and may not be reproduced, or used for any commercial purposes.