Rittners School Of Floral Design
In Boston Presents....

Geometric Spherical Arrangement-I



Floral designers have always enjoyed playing with shapes.
Consider if you will, how much we as designers, are influenced by shape and form.
The flowers, and foliages that we use, have very specific shapes to them. We even sometimes differentiate between face flowers, linear flowers and filler materials.
The overall form or pattern of our arrangements are based in most cases on geometry. We stylize designs that are hemispherical in shape, or perhaps shaped like a waterfall a letter of the alphabet (such as an L or upside down T), a geometrical shape like a scalene triangle or even parallel lines......
In recent times contemporary floral artists have rediscovered pure shape or form as a factor to consider in a floral composition.
Our wholesalers and suppliers have admirably risen to the occasion. We are fortunate in that we can find styrofoam, foam and even other kinds of materials at our wholesale suppliers that convey the feeling of pure form and shape.
This design and variations to follow illustrate this well. In this piece we are celebrating pure form, pure geometrics, specifically through the sphere.
---
---
What You Will Need
Tall plastic or ceramic container
Foam
Three stems of larkspur
One open lily
River cane (bamboo)
Woven branch sphere
Raffia
Some sheet moss
---
---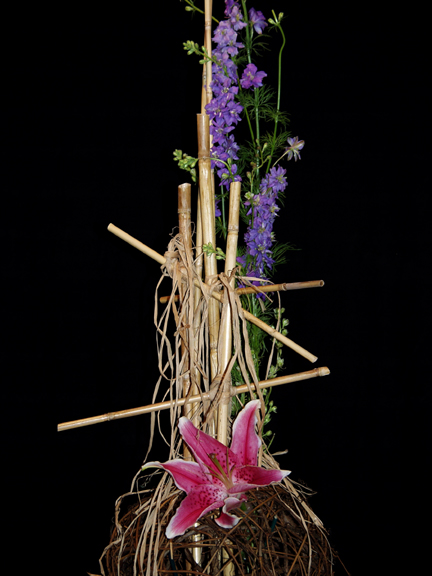 This design requires very little content, is quite easy to make, and is a very large piece when completed. For someone who really enjoys contemporary styling, this arrangement works very well!
Start off by filling your container with foam.
Add sheet moss around the bottom of the foam for decorative effect and to cover the mechanics.
Place a geometric sphere on top of the container and foam. This geometric sphere is actually woven branch material. They are available from wholesale sources in varying sizes.
To assure that the sphere will not simulate a bowling ball and roll off, it's necessary to anchor it in place!!
Take river cane and cut it into a variety of lengths. Insert them through the sphere deep into the foam in the container.
The vertical cane anchors the sphere in place. Take smaller sections of cane and tie into a matrix using raffia. This provides counterpoint and visual interest. (Additional picks of wood can be used if desired, to anchor the sphere with even more stability.)
A floral design needs some flowers! Place several stems of larkspur through the sphere into the foam base.
Complete the design by adding a single lily as a counterpoint. The lily stem is in foam and the face of the flower is on the outside of the sphere. Alternatively the lily flower could be placed into a water tube and wedged into the top of the sphere.
---
---
This is an all purpose arrangement, meaning that it could be adapted to just about any holiday or occasion. Because of its sculptural quality, this design may work best in a more contemporary setting.
It would work well in an entry area, or in a large narrow window.
It could be placed on a pedestal or sideboard in a special corner or nook or cranny in a home
It may be adapted to a contemporary church, chapel or synagogue
Using the same sphere, and river cane, and perhaps varying the color of the container:
For Christmas, use white or sparkled birch branches, and perhaps a poinsettia.
For Halloween, use novelty poms and perhaps a Red Rover Mum or two.
For Valentine's Day consider a vertical streamer of roses, and another color rose for the sphere.
For St. Patrick's Day use bells of ireland in place of the larkspur and green carnations through the sphere
For Easter consider some flowering branches for the vertical section, and bulb flowers through the sphere.
---
---
We hope that you really enjoyed this brief floral design lesson. At Rittners Floral School in Boston we provide floral design instruction that includes a wide range of different styles and techniques. Please come and take one of our hands-on workshop programs!!
---
---
Rittners Floral Education Center returns you to our Floral Education Center.
---
---
Your Webmaster is Dr. Steve Rittner, who may be reached at Stevrt@tiac.net. All photographs and text on this page are Copyright - Rittners School, and may not be reproduced, or used for any commercial purposes.