Rittners School Of Floral Design
In Boston Presents....
How To Make A Bouquet of Gerbera And Roses
All too often professional folks in the floral field, as well as dedicated hobbyists, come up with all kinds of rules, regulations and statements as far as the appropriateness of mixtures in floral designs.....
"This will work well with that........" they say...
"You absolutely cannot combine such and such with such and such," they will pronounce, with absolute certainty.....
A great deal of this "wisdom" is nonsense!!!!
Much of what you can and cannot mix together is dictated by the physical dictates and the restraints of the media, and the likes and dislikes of the ultimate recipient. Most of the rest is subjective commentary.....
This design is a good illustration of this.
This is a very lovely bouquet.
In this bouquet we demonstrate how you can mix together a very elaborate flower (roses), a very natural, casual kind of flower (gerbera), along with both foliage as well as ribbon materials to come up with a very elegant, lovely design.
---
---
As with all bouquets shown our Floral Education Center we believe that on your wedding day you have more than enough to deal with in terms of your guests and details of your bridal party. We do not recommend doing your bouquets yourself.....or leaving them to any amateurs......You don't need the extra pressure on that special day. Leave the construction of your wedding designs to your florist. S/he will stylize something special for you that will meet your every need. Wedding bouquets really do require skill, and ability, not do-it-yourself attempts.....
We are showing you these steps so that you'll appreciate the skills provided by your florist and the labor required to do these.......
---
---
Contents of This Design
Foam base
Picks
Gerbera
Roses
Ming fern
Ribbon
---
---
This design is stylized in a foam bouquet base, (a fairly good sized one to accomodate all of the materials.) Extra picks may be added to the bottoms of the stems to help prevent flower loss.
To start a design such as this one, the overall shape or form must be created. In this case foliage provides the shape. Ming fern is a lovely foliage. It fills space quite quickly and is very soft and fluffy in appearance....
Place the foliage as shown in the photograph.....
To add contrast add ribbon. The ribbon is placed using several different approaches.....Puffs of ribbon are placed in the upper section of the design...A long shower of ribbon loops is placed, hanging down from the center of the design....
Note that the ribbon used is a rather interesting one. It is silver/metallic in appearance, yet provides a mesh feeling, almost like looking through a delicate screen.... The choice of a ribbon can be critical in establishing the psychological mood of a piece.....
---
---
Let's start adding some flowers....
Gerbera are placed in the top section of this design......
Gerbera, also known as African Daisy are a fascinating flower....They come in an incredible assortment of colors....I've enjoyed gerbera in reds, white, pinks, yellows, and creams...And sometimes the centers are dark, light and with differing texture....
They give a very lively and happy look to any design.
I always recommend properly conditioning every flower prior to use in every floral design, but it is especially important to do so with gerbera....(as well as roses). Although they are a wonderful flower, they do tend to be very tempermental in terms of holding up in foam bases.
---
---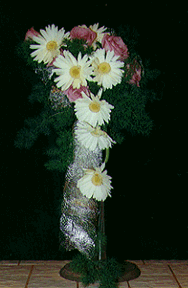 More gerbera are added to this design....
For contrast roses are introduced into the top section of the bouquet....
The roses are pretty but they look a bit hidden, tucked in along with the gerbera.....This will change very shortly......
Study this photo carefully, and then compare it to the last step shown below.....
---
---
Notice here how we've added a few more roses in a dramatic slash to the lower right hand side of the design.....
The amount of roses added here is very minor (only three!!). Yet you can see how this small addition changes the entire visual presence of the bouquet....
Sometimes it's not just what you have, but how you use it!!!
---
---
We hope that you really enjoyed this bouquet. At Rittners Floral School in Boston we provide floral design instruction that includes a wide range of different styles and techniques. Please come and take one of our hands-on workshop programs!!
---
---
Floral Education Center returns you to our Floral Education Center.
---
---
Your Webmaster is Dr. Steve Rittner, who may be reached at Stevrt@tiac.net. All photographs and text on this page are Copyright - Rittners School, and may not be reproduced, or used for any commercial purposes.