Rittners School Of Floral Design
In Boston Presents.....
How To Make A Bouquet of Fujis, Spiked Materials, Sweet William & Statice
Isn't this a lovely bouquet??
There are some marvelous things going on in this design. The fujis are clustered creating a starburst effect.....
The spiked flowers radiate out in various directions giving skeletal structure and form to the design.........
The sweet william and statice, provide contrast and a nice buffer and filler between the brilliant fujis and the more subdued spiked materials. The overall effect is moderated and unified by the soft ming fern.
As with all bouquets shown our Floral Education Center we believe that on your wedding day you have more than enough to deal with in terms of your guests and details of your bridal party. We do not recommend doing your bouquets yourself.....or leaving them to any amateurs......You don't need the extra pressure on that special day. Leave the construction of your wedding designs to your florist. S/he will stylize something special for you that will meet your every need. Wedding bouquets really do require skill, and ability, not do-it-yourself attempts.....
We are showing you these steps so that you'll appreciate the skills provided by your florist and the labor required to do these.......
---
---
Contents of This Design
Foam base
Picks
Spiked flowers
Fuji mums
Sweet william
Statice
Ming fern
---
---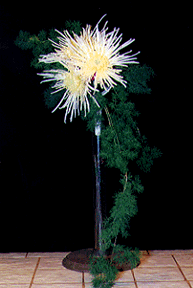 This design is stylized in a foam bouquet base, (a fairly good sized one to accomodate all of the materials.) Extra picks may be added to the bottoms of the stems to help prevent flower loss.
To start a design such as this one, the overall shape or form must be created. In this case foliage provides the shape. Ming fern is a lovely foliage. It fills space quite quickly and is very soft and fluffy in appearance....
To create our focal area use a few fujis as shown in the photograph.
---
---
Next let's start adding a little more form to this design.
This is most easily done by adding our flowers, radiating out from the fujis.....
Sweet william is placed in fairly closely...Some stems are deliberately extended down towards the lower right hand side of the design....
---
---
To provide a material that will blend with the sweet william, yet provide a different texture to the design, we add some of our statice.......
Each time as we add flowers, we are moving a little further away from the fujis.........
---
---
Start with our spiked flowers. We are deliberately being vague about the specific spiked flower used here. It could be varied, including anything available to you such as larkspur, delphinium, snapdragon, etc.
Radiate the flowers around the top part of the design, working from left to right........
---
---
Complete the design by adding spiked materials to the lower section of the design.
---
---
We hope that you really enjoyed this bouquet. At Rittners Floral School in Boston we provide floral design instruction that includes a wide range of different styles and techniques. Please come and take one of our hands-on workshop programs!!
---
---
Floral Education Center returns you to our Floral Education Center.
---
---
Your Webmaster is Dr. Steve Rittner, who may be reached at Stevrt@tiac.net. All photographs and text on this page are Copyright - Rittners School, and may not be reproduced, or used for any commercial purposes.