Rittners School Of Floral Design
In Boston Presents.....
How To Make Four Different Designs From One Starting Point
Normally when we think in terms of making a floral design, we consider the starting point of the design, the intermediate phases, and finally the last few steps...all leading to one complete floral piece.
This lesson presents something rather unique...
What we are going to show you here, is how we can start at one point stylizing a floral design, but gradually, continually, add to it and modify it.......
And at each stage in the modifications, we could stop the design and declare it finished!!! In other words at the completion of step one the design could be considered finished. At the end of step two it could be considered a different design. At the end of step three, but another variation, etc.
With each step of greater complexity, the designs become increasingly expensive as well!!!
So in effect by providing varied degrees of complexity here, we are presenting not one floral design, but rather four!!!!
I like to call this kind of designing a "four in one" floral design :->
I hope that you find it as potentially useful and interesting as we do!!
---
---
What You Will Need
Two plastic containers
Foam
Sweet William
Roses
Liatris
Cut Palmetto
Dried strelitzia leaf
Ming fern
Moss
---
---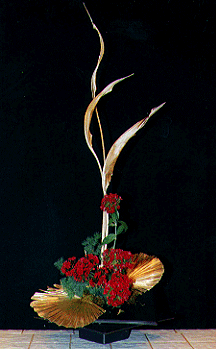 Four-In-One Design Variation #1
We start these designs by taking several plastic containers and placing one inside the other at slightly varied angles. This gives a rather contemporary feel to our base.
Height is achieved in this design through the use of our dried materials. In this case we are using dried strelitzia leaf. The dried strelitzia leaf is fairly tall (approx three feet). It's placement makes the design seem important right from the start. Dried strelitzia leaf also has an interesting parchment-like texture. In this case it is painted gold, giving the design a very, very rich and opulent look. Three dried strelitzia are placed as shown in the photograph.
To give counterbalance on the horizontal plane, several cut palmetto leaves are placed, one to the left, the other to the right. They are deliberately tipped giving a very dynamic diagonal line. As with many of our dried materials, we can buy the palmetto from our floral wholesalers dyed in a variety of colors. To provide continuity with the dried strelitzia leaves, the cut palmetto here is a gold hue.
Sweet william is placed into the center of this design. This provides an interesting contrast between our dried materials and live product. It also establishes a focal area to the design.
Ming fern and a little moss can be used to assure that the mechanics are covered.
The design could be sold exactly as seen here....It is impressive in size, easy to make, very attractive and showy,
---
---
Four-In-One Design Variation #2
We would start this second design as we did the first one.
The container is secured. The dried strelitzia is placed providing the height to the unit. The cut palmetto is placed to the left and right forming a diagonal. The sweet william is put into place.......
But now let's add to the complexity of the design. Let's take some roses, and incorporate them into the design. Starting at the top left side of the arrangement, roses are placed working down into the center of the design, and gradually swinging down to the right side of the arrangement......
We would stop at this point, but let's make this a little larger.....
Three stems taken from the palmetto &/or strelitzia can be placed on the lower left and upper right side of the base, extending the diagonal of the cut palmetto......
A very pretty design, definitely sporting more value through the addition of the roses and stems.....
---
---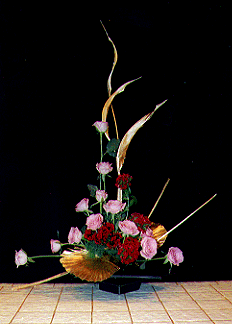 Four-In-One Design Variation #3
This design is assembled just like the previous one.
The variation here involves adding a bit more value with some roses.
They are placed forming a line over towards the left side of the design........ You can see that this design has gradually become far more complex......
We could stop at this point and not add further to this design.....
---
---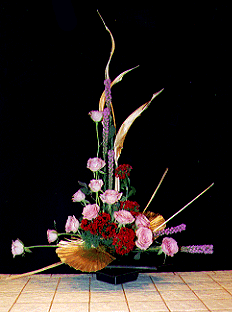 Four-In-One Design Variation #4
This variation follows all of the steps done previously.
To create contrast in shape and color we add three liatris to the center of the design, and several over to the bottom right.
Some variations that you could stylize simply by substituting other materials.......
In place of roses consider using: carnations, pom pons, daffodils, godetia, gerbera.
In place of sweet william consider using: stargazer lilies, tulips, solidago, sunflowers, orchids.
In place of liatris consider using: monkshood, delphinium, larkspur, snapdragon, heather, and miniature gladiolus.
---
---
We hope that you really enjoyed this brief floral design lesson. At Rittners Floral School in Boston we provide floral design instruction that includes a wide range of different styles and techniques. Please come and take one of our hands-on workshop programs!!
---
---
Floral Education Center returns you to our Floral Education Center.
---
---
Your Webmaster is Dr. Steve Rittner, who may be reached at Stevrt@tiac.net. All photographs and text on this page are Copyright - Rittners School, and may not be reproduced, or used for any commercial purposes.