Rittners School Of Floral Design
In Boston Presents.....
How To Make A BIG Bridal Cake Out of Flowers
Part of the fun of floral designing is that our art is so eclectic.
The floral artist can stylize large impressive traditional massed arrangements or sleek minimalist contemporary art....massive hand bouquets or small detailed body flowers......We can go in so many different directions.....
But from my perspective, the kind of designing that I find personally quite interesting is novelty work.....And that's precisely what we have here.....
Of course this is not just any novelty......This one is rather special.....
This is a cake stylized from flowers......and it's a big one...... This flower cake is close to six feet in height.......
This design is definitely intended as a novelty for a very special wedding or shower....
It is spectacular requiring well over one thousand flowers, and best of all it has no cholesterol!!!!
It is not hard to do. (Once we show you how in the comments to follow!!!)
---
---
What You Will Need
Eighteen wreath forms
Lots of pom pons
Lots of corsage pins
Container
Foam
Larkspur
Stargazer lilies
Roses
Ming fern
Ribbon
Wire/tape/glue
---
---
We start this design by creating a frame upon which the flowers will be placed. This design required eighteen (that's right, eighteen) wreath frames.....
There were several key concerns that I had as I stylized this arrangement.....
One was that with the addition of the flowers there was going to be considerable weight involved in this design.........In order to assure myself that the design would be secure, very very dense styrofoam wreaths that even have roping inside were used..... (If you were to stylize smaller versions of this you could probably use just about any styro. wreath even composed of lighter, less dense materials....) That is why most of these wreath forms are very dark green. It is the dense kind of base that is being used.....
The second concern was functional...This cake was stylized so that small balloons could be inserted inside of it, and the top opened up to allow a balloon release.....This means that part of this cake had to be removable...It also means that there could be no picks or rough spots anywhere in the interior of the cake......
Three wreaths of the same size were attached to each other using picks. This was done six times using different size wreaths..... These six sections of three were in turn, picked to each other.....(Only one section near the top was placed without picking to allow the balloon release.) The wreaths overlapped each other by a few inches to allow the pyramid-like effect....
---
---
Next let's start to add some some pom pons....Poms come in a variety of colors from white, to yellow to bronze.....They must be conditioned prior to use as they will be out of water in this design.....
Cut the heads of the flowers off of the stems, leaving no stem at all. To secure the poms in place we attach each pom with corsage pins....The pins allow a quick construction, yet they are not long enough to go through the styrofoam into the interior....
The pins have an added benefit. The pearl end is in itself quite decorative...It appears as if the flowers deliberately have pearls placed inside of them.....

---
---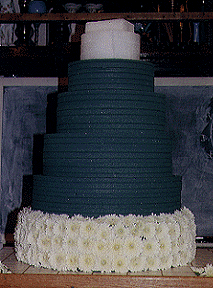 Here is a photo of the entire first level of the design completely covered with flowers....Some flowers are also pinned flat into the "ledge" on the top of this section....
---
---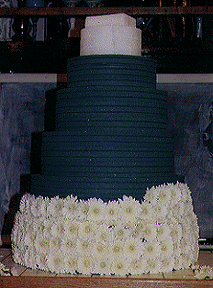 Continue to add the poms, working your way around the wreaths, pinning the flowers into place.....
Notice how the addition of the poms most definitely changes the whole appearance of the very plain wreath bases....The addition of the poms makes it look even larger....
---
---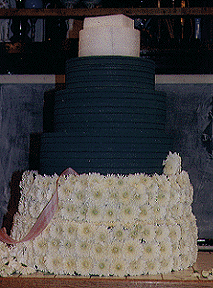 On the earlier ledge we placed flowers flat and pinned them in place....
On this next ledge let's provide a little visual variety....Place ribbon along the edge, and pin it into place using small pleats....
---
---
Before we go on, let's take a look at the last several steps side by side.....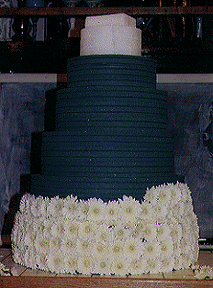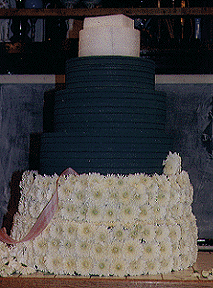 ---
---
---
---
---
---
---
---
---
---
---
---
---
---
---
---
---
---
Because of the large number of graphics used to illustrate this design, we have divided this instruction into several smaller pages....To continue simply press Part Two---Building The Big Cake!!!!
---
---
At Rittners Floral School in Boston we provide floral design instruction that includes a wide range of different styles and techniques. Please come and take one of our hands-on workshop programs!!
---
---
Floral Education Center returns you to our Floral Education Center.
---
---
Your Webmaster is Dr. Steve Rittner, who may be reached at Stevrt@tiac.net. All photographs and text on this page are Copyright - Rittners School, and may not be reproduced, or used for any commercial purposes.