Rittners School Of Floral Design
In Boston Presents....
Fall Arrangement #3

In the floral field we are blessed with a wide assortment of containers and bases. The container used in this floral design is definitely a novelty unit. It looks like a football. The football motif can be used quite effectively for ANY floral design intended for the football fanatic. It can also be for a birthday or Father's Day if Dad loves the sport.
The primary reason we are showing it here as a seasonal design is that typically people think of the fall as a time for football games and great rivalries between traditional football foes.
---
---
What You Will Need
Novelty Container
Baker Fern
Yarrow
Pom Pons
Miniature Carnations
Foam
Statice or other filler
---
---
This design is a good example of how you can come up with an interesting design using up a lot of odds and ends. You simply save a stem or two from other jobs, place them into an "odds and ends" flower bucket, and you'll be amazed at how easily you can make lovely floral art from these random pieces.
Start with your base. Place foam securely in place.
Be sure to add some foliage. In this case we are using baker fern or leather leaf. We are placing it now, for as we add more flowers to this design, it will become increasingly more difficult to get the foliage into place at the baseline.
Taking a random assortment of our materials, let's create a fan shape as shown in the photograph.

---
---
Now that we've achieved the outermost parameters of this design, let's concentrate on ways to gradually fill in towards the center. Cut your flower stems a bit shorter, and gradually work the flowers a bit lower, almost like a target with a bulleye.
Notice that as we add flowers to the design, we are placing them in random groupings.....a pom, followed by a miniature carnation, followed by a piece of yarrow, etc. The overall grouping provides a rich polychromatic mixture.

---
---
Additional flowers are placed randomly in towards the center of the design, each time cutting our flower stems a little shorter, and coming down closer to the front of the base.

---
---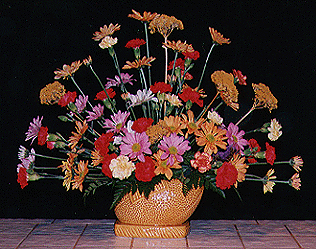 Finally fill flowers right into the very front of the design. Be sure to cover your mechanics in the back with a bit of baker fern.
This kind of design can be stylized using relatively inexpensive materials as you see it here...with very nice effects. On the other hand, it can also be stylized using more expensive materials. For example picture this same design with red and yellow roses, stargazer lilies, and cymbidium orchid stems!!
---
---
We hope that you really enjoyed this brief floral design lesson. At Rittners School of Floral Design in Boston we provide floral design instruction that includes a wide range of different styles and techniques. Please come and take one of our hands-on workshop programs!!
---
---
Rittners Floral Education Center returns you to our Floral Education Center.
---
---
Your Webmaster is Dr. Steve Rittner, who may be reached at Stevrt@tiac.net. All photographs and text on this page are Copyright - Rittners School, and may not be reproduced, or used for any commercial purposes.