Designing in a water base involves techniques and approaches that predate the invention of floral foam. My grandfather did an enormous amount of his designing this way.
Floral designers have been re-discovering floral designing in water bases. Grandpa would probably be quite amused to find how this kind of designing has been enjoying a surge of popularity at the present time!
But it is easy to see why they are enjoying renewed interest.
These designs are pretty. They have a natural beauty.
The flowers hold up well in water. Folks love looking at the stems.
We made this particular design for the entry hall of our school. It is so pretty that we thought you might enjoy it as well. Best of all it is easy to make. ENJOY!
baker fern
---
---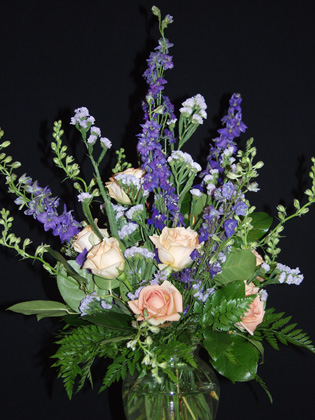 Start by placing your foliage as shown in the photograph. A combination of baker fern and salal form a base for this design. Combinations of foliage are visually more interesting. They give us contrast of shape, and form. The natural "doily"created will provide a great counterpoint to the lovely flowers used in this arrangement.
Place larkspur into the design. Larkspur is a beautiful flower. It is available in white, pink, and then of course in the blues and lavenders as shown here. It has a garden-like, natural feeling. Because it is a linear flower it helps us to establish the height and overall form of the design. It feels less rigid than many other materials. It will give us nice contrast with the other flowers that we will be using in this arrangement. Note that we are using the side shoots with buds as well as the more developed sections.
Statice is used next. Normally we think of statice as a "filler" material, however, here the statice also provides a linear component to the design. Statice also is available in a variety of colors. Our choice of light blue works quite well, integrating it with the larkspur.
---
---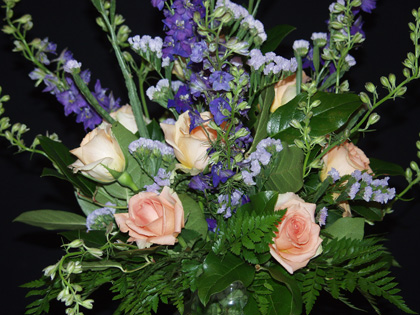 An all blue design could be interesting, and if we wished to go in that direction, could be achieved with, for example, the use of iris....
However in this design we felt that contrast would be more interesting. Adding the light orange roses, gives us several kinds of variety. Variety of color and variety of form.
Variety of Color:
Colorwise, blue and orange form a complementary color harmony. You can see that the results are quite striking. Well educated floral artists know how to use color theory to help them further their design goals!
In our Six Month Day Course we cover the various color harmonies and how to use them....
Enough of the "infomercial!"
I did mention that there were several kinds of variety. One was variety of color. The second is variety of form.
Variety of Form:
Notice that the shape of the rose, is what we would call a "face" flower, in contrast to the linearity of the larkspur.
Finally we add some of our statice. It blends well with the larkspur in terms of color, but it belongs to a grouping of flowers that we generally call "filler flowers." These are small flowers, usually with multiple florets often used to "fill" inbetween larger more dominant blossoms.
Thus in this design we have contrast among linear, face and filler materials.
---
---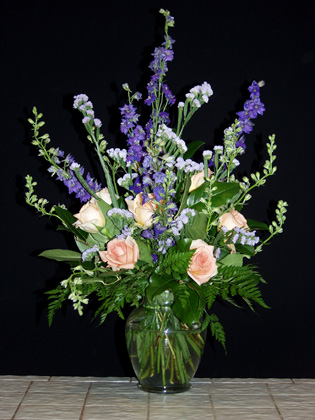 The grace and elegance of this design make it one that can be used for a wide variety of functions and occasions.
it would make a great gift if you go to visit someone.
It would look great in a bay window, or even in an entry area.
It can be used in a living room, on a mantle or perhaps on a coffee table or sideboard.
It would be lovely in the dining room, or even on a kitchen counter as a table centerpiece.
It would look great in a bedroom, or even in the bathoom, depending of course, upon the amount of space available.
This design would work well as a birthday gift, or alternatively for a new baby, shower, wedding reception or even as an office gift.
---
---
We hope that you really enjoyed this brief floral design lesson. At Rittners Floral School in Boston we provide floral design instruction that includes a wide range of different styles and techniques. Folks attend Rittners Floral School, because we are great floral designers, and just as importantly because we are outstanding teachers!! So come to Rittners, or send your family and friends to one of our hands-on workshop programs!!
---
---