How Smart People are Making Money in the Floral Field
One hundred years ago the floral field was a rather modest business where local growers brought their flowers to large cities, for floral retailers to purchase and resell.
Today, the floral industry in the 21st Century is big business! In fact, the floral industry in the US is now moving over 25 billion dollars worth of flowers per year---That is a lot of floral product to be sold through a huge range of outlets!
Flowers are brought into our markets from the four corners of the earth. It is not unusual for the typical florist to be selling flowers from California, Florida, Hawaii, Holland, Israel, Thailand, Australia, Central and South America. Flowers are transported throughout the world quite literally by the ton!!!
In addition the contemporary flower shop is not just selling flowers (though that is an essential part of what a florist is all about.)
Most florists today offer a vast range of both products and services. Products may range from unusual containers, to candles to stuffed animals, to balloons. Florists deal in a wide variety of gift and art objects.
Many florists also offer a variety of services from specialized wedding and event planning to home decorating, to interior plantscaping.
This kind of variation in both product and services allows floral designers to position themselves quite uniquely in the marketplace depending upon their own interests and tastes. It also enhances their profit making abilities.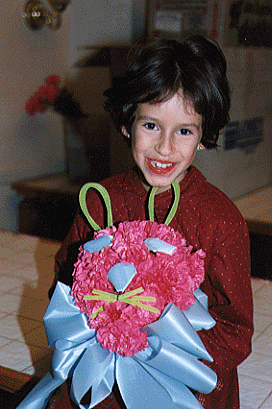 The talents of the floral designer are in great demand---regardless of economic upswings or downswings! The reason is simple. Flowers (and allied products )are used to celebrate major life cycle events and occasions. Regardless of economic conditions....people get married, have graduations and parties, give birth, convalesce, and pass away. Floral products are there to create an atmosphere, to shape space and to make people happy. In addition numerous holidays throughout the year ranging from Valentine's Day, and Christmas to Mother's Day and Easter drive strong consumer demand for floral art!!
People have, and always will, express thanks with flowers, use flowers to keep on good terms with their significant other, and use floral products to convey a wide range of emotions--regardless of the economy!!
We like to call floristry the "feel good field." That is because the floral designer is using his/her talents & skills to make others happy, and to meet their emotional needs, and in so doing feels good as well...and just as importantly......makes money!!! Floral designers practice a very unique art form....the media being natural and lovely. The beauty of flowers add to the appeal of the floral designer's creations, and make a very pleasant way to spend ones work day. Floral designs evoke emotion, and help bring meaning, comfort, happiness & joy to important & even trivial events of life.
Flowers (and floral products) make people happy.
It's amazing how many people take our courses who first went into other fields for a variety of reasons. Later they decide that what they really want out of life is a career that will make them happy....... And they come back to floral designing......... There are many avenues of expression-- and profit --for the floral artist....
Smart People Are Using Floral Art Skills To Own Their Own Business
There are many advantages to owning one's own business.......The desire for independence, the thrill of doing your own thing, the way you want to do it, the enjoyment of not having to answer to a cranky boss, escape from the cold corporate world, and of course the monetary incentive.......Numerous graduates of our school have used their floral design skills to open their own floral businesses...shops and non retail kinds of businesses.
Smart People Are Using Floral Art Skills To Supplement Their Income
Some folks maintain their current jobs and its benefits, but add to their income by selling floral art for special occasions.
We are finding increasing numbers of folks taking our course to run alternative type floral businesses......These would include folks working "out of their homes", "by appointment only" floral designers, and designers doing parties and weddings from office or loft locations. This is a very exciting trend. Some of these folks are finding floral art a very lucrative way to supplement their current incomes and to moonlight. Some stay-at-home moms find that running a floral business out of the home is a wonderful way to experience the best of both worlds--a nice home life, and business opportunity.
Smart People Are Using Floral Art Skills
To Cope With A Constantly Shifting Economy
It is an unfortunate fact of life that job security these days, is often a myth. Many companies are heartless when it comes to layoffs. Regardless of what you are currently doing for a living, it is smart to have new money making skills under your belt....
Many of our students find that practical easy to learn floral designing skills are a smart way to stay ahead of possible downturns in their own fields.....A smart way of changing careers or retooling, "just in case ...."
Isn't it nice to be able to look at your boss and think to yourself......"Your job isn't the only game in town?"....Many students here at Rittners Floral School take our great diploma courses to have fun and at the same time to learn practical backup skills.....How terrific!!!
Smart People Are Using Floral Art Skills
As A Second Career or As A Retirement Career
We are fascinated by the incredible diversity of people in our classes. We find that it is quite common for our student body to include folks from the medical and legal professions, folks from high tech or engineering backgrounds, people from sales and retail backgrounds, law enforcement professionals, teachers, and people from virtually all walks of life. This results in a very interesting environment in our school. It also underscores the desireability of floral designing as a practical, enjoyable field. These people generally tell us that quality of life issues are very important to them..... They want to earn a livelihood, but also want to ENJOY what they are doing..... The Floral Field helps to meet those needs.....
Floral designing is a "feel good occuption." Floral Designers enhance peoples lives through their products and services...and in the process feel good about themselves.......and profit as well! What a wonderful field!!!
Smart Allied Professionals Learn Floral Art
To Offer More Services & To Make Money
Allied Professionals find that easily acquired floral art skills can enhance their abilities and actually increase their earning potential in their chosen fields..... For example here are but a few of the allied fields that have been represented in our classes......
Caterer
Interior Decorator
Architect
Funeral Director
Wedding Fashion
Cake Decorator
Floral Wholesaler
Gift Shop Owner
Nursery
Limosine Rental
Balloon Artist
Graphic Artist
Jewelry Maker
Visual Artist
Window Display Professional
Floral Street Vendor
Convenience Store Owner
These people know that by adding floral products and services to their current business that they can make more money!!
And let's not forget that every year we also have folks from flower shops taking our courses so that they will be more effective and competitive in their jobs.....
Summary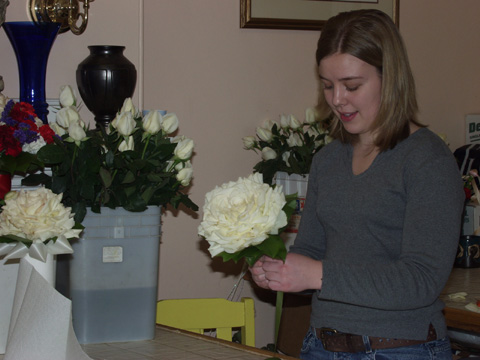 There is strong demand for floral products & services..... Flowers & their design are in strong demand for life cycle events such as funerals & weddings and are important gift items for holidays such as Valentines Day, & Mothers Day. Florists carry all kinds of allied items such as dried & silk materials, gift baskets, stuffed toys & balloon products.

Smart people today are using easy to acquire floral designing skills to make more money and to enhance their lives. Compared to other fields, a relatively small amount of capital outlay is required to become a floral designer.

Smart people are learning floral art to open their own floral businesses. They know that floral designing is one way that they can own their own business and profit from their efforts.

Smart people are learning floral art to run alternative kinds of floral operations The floral field lends itself well to "home based", "loft based" or "by appointment only" floral designers. Many people find that going after parties, and weddings can supplement their income, while they may continue to hold their current job situations, should they desire it. Many folks find that floral designing allows them to deal with family responsibilities, yet still have a satisfying creative outlet and earn money.

Smart people are using floral art to retool in a constantly shifting economy. Knowledge of a second career empowers you. It means that you are less at the mercy of your boss or company in a constantly changing economic climate. Many people like to have floral skills under their belt "just in case..." You may never need those skills, but isn't it better to be one step ahead of your company???

Allied Professionals are using floral art skills to enhance the products and services they are already providing. Floral Designing provides very versatile skills that can add to allied professional's earning power!!! If you are an allied professional you will find that the more products and services that you can provide for your customers, the more they will turn to you for your expertise, and the more money you may make!! Floral skills can help you meet their needs and your own!
---
---