Foam mini cubes---brought to us by the folks at Smithers-Oasis are a terrific medium for creative floral art with a 21st Century flair. We love them.
The foam mini cubes come in a variety of colors.
They are easy to use and they give a cutting edge look to designs in glass bases.
In this lesson we will show you four variations on a theme using foam mini cubes.
Birch Branches

---
---
Foam Mini Cube Arrangement-Variation One

In classical floral design, foam is hidden in a container. Flowers are placed into the foam and the mechanics ( often meaning the foam itself ) is concealed with foliage.

The kind of floral art presented in this lesson, provides a very different aesthetic. The foam is not concealed. Rather it is being featured and celebrated!

Foam mini cubes are available in a wide variety of colors. The lime green shown here is striking and visually appealing.

Start by preparing the base. The foam mini cubes come precut in small one inch sections. The glassware is rather long and narrow, approximately eight and one half inches in length.

Fill the glassware with the mini cubes as shown and saturate with water.



Now start to place some birch branches into the foam as shown.
A few pieces are placed vertically. One piece is placed horizontally and glued into place for contrast.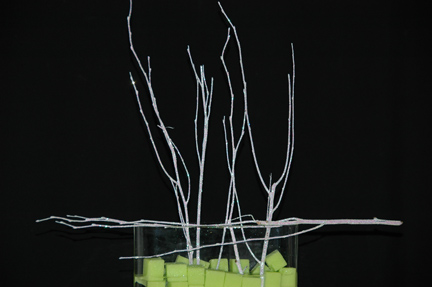 Place a row of roses as shown in the photograph. The particular variety here is the Esperance rose. It is large, has pink surrounded by an ivory like hue, and is generally a good keeping flower. Isn't it striking? They almost seems to be floating above the foam cubes.....
---
---
Foam Mini Cube Arrangement-Variation Two

Start your arrangement as shown above.

This time, however, let's add a second row of roses providing a hedgerow type arrangement.


Big...attractive... and easy to make. The foam mini cubes make what is going on below the water level just as interesting and important aesthetically as what is above the glassware.
I like this kind of arrangement and these kind of mechanics!!


---
---
Foam Mini Cube Arrangement-Variation Three
We can of course back up one step to where we had the single row of roses as shown here.......
Now instead of adding another row of roses above the first row to create a hedgerow, lets add a few cushion poms above the roses, but for variety, let's keep them fairly close just touching the tops of the roses.....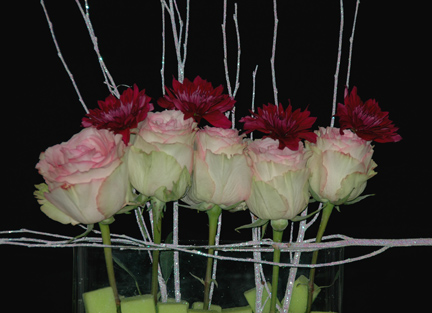 The addition of these few poms creates a totally different feeling to the design.


Interesting variation, isn't it?
---
---
Foam Mini Cube Arrangement-Variation Four


Let's start at the same point in the last variation. The foam, branches and first row of roses are in place....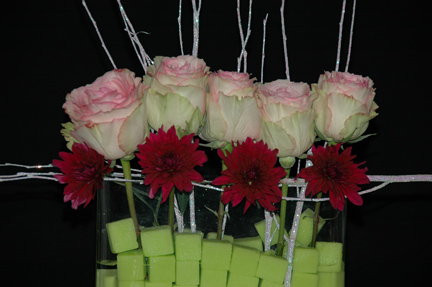 If we can place a few poms above the roses for an interesting effect, why not place a few down below the roses as well?


Again, quite amazing how just a few flowers can alter the overall visual impact of a floral design....
---
---
We hope that you really enjoyed this brief floral design lesson. At Rittners Floral School in Boston we provide floral design instruction that includes a wide range of different styles and techniques. Folks attend Rittners Floral School, because we are great floral designers, and just as importantly because we are outstanding teachers!! So send your family and friends to take a course with us or how about taking a course with us yourself!
---
---
---
---
Your Webmaster is Dr. Steve Rittner, who may be reached at Stevrt@tiac.net. All photographs and text on this page are Copyright - Rittners School, and may not be reproduced, or used for any commercial purposes.