Rittners School Of Floral Design
In Boston Presents....
Contemporary Christmas Design in Water Base

Wow! Isn't this a fantastic design!
It is funky! It is creative....and it is very, very contemporary.
Yet this kind of design is really quick and quite easy to make.
This kind of look is not for everyone. if you like your christmas designing traditional then this may not be for you.
But I would suggest, keep an open mind on this one.
Floral art at the present time is quite eclectic. Classical favorites are being marketed along with the chic, avant-garde look of tomorrow.
Our view at Rittners Floral School is that floral designing is made to meet the emotional needs of people.
Some folks prefer the more classical look. They feel it gives great value and has warm and fuzzy associations. There is nothing wrong with that!
Others enjoy new and different looks... Explorations in line, form and texture.
There is certainly nothing wrong with that either.
At Rittners we take pride in that we teach floral design skills that enable grads from our Six Month Day, 12.5 Week Evening, and Concentrated Day Courses to feel quite comfortable changing floral design styles and approaches at will.... in effect for them to become floral "chameleons" to meet the needs of their clients.
In other words, there is no one "Rittner Floral School style." We teach many styles, approaches and techniques to our students....
So... Like this design? Great. Don't care for it? No problem. There are other techniques and approaches that we teach that you may prefer.... The smart floral designer learns a variety of techniques both classical and way out, and uses them to meet the needs of the recipient.
A high style design for the 21st Century....
---
---
What You Will Need
Thin glass vase
Birch branches
Three Roses
Glass balls
Water!!!

---
---

This design looks visually complex, but is quite easy to make.

Start with glass mm balls. The use of the red and green glass balls establishes the design as one for the holiday season. The glass balls are wedged in a fairly narrow glass vase. and are placed at water level and above. Keep in mind that sometimes some ornaments may shed their paint if they are submerged.

You can never go wrong with branchy things! Let's play with birch branches. Place one vertically as shown. Wedge it behind the glass balls.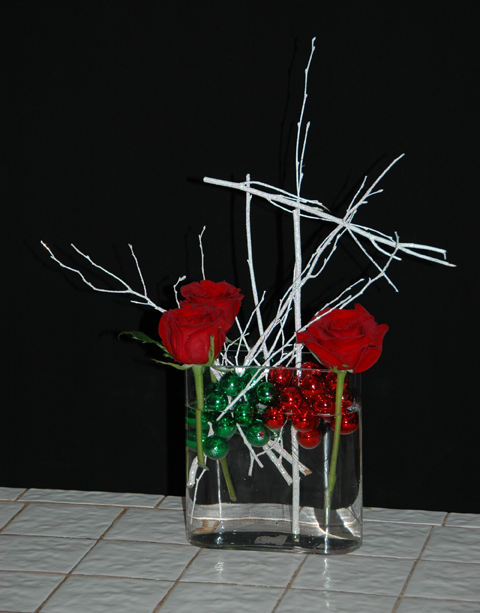 Place additional birch branches at angles as shown above.

Once the branches are secure add a branch up higher. It looks like it is suspended above the branches that are going into the container. Place at a slight angle for interest. Secure with glue.

Fiinish the design by adding three roses making sure that their stems are in the water.
---
---
Sometimes its fun to see how a design would look like if we made a mirror image reversed version..... Almost feels like a different design doesn't it?


---
---

This arrangement would work nicely in a small office workspace, or possible on a small counter where you need a little burst of color. It is particularly appropriate in environments that feel quite contemporary.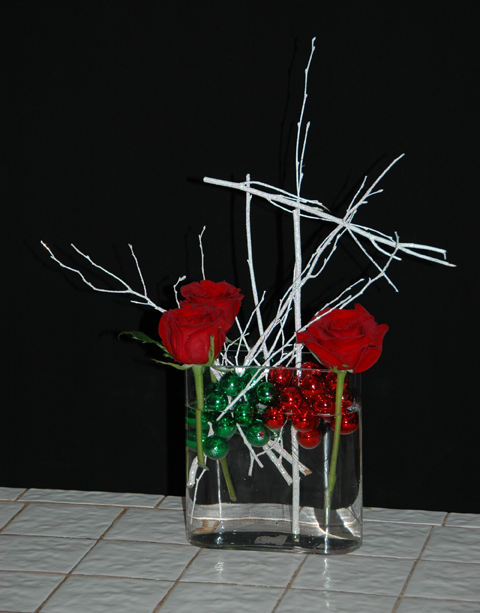 ---
---
We hope that you really enjoyed this brief floral design lesson. At Rittners Floral School in Boston we provide floral design instruction that includes a wide range of different styles and techniques. Folks attend Rittners Floral School, because we are great floral designers, and just as importantly because we are outstanding teachers!! So come and take a course with us and enjoy!!!
---
---
---
---
Your Webmaster is Dr. Steve Rittner, who may be reached at Stevrt@tiac.net. All photographs and text on this page are Copyright - Rittners School, and may not be reproduced, or used for any commercial purposes.